Spicy Pork Spoons with Coriander
Early Summer 2010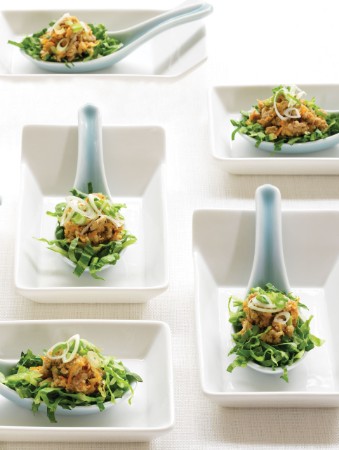 Spicy Pork Spoons with Coriander
Early Summer 2010
BY: Marilyn Bentz-Crowley
Mixtures such as this flavourful pork are often wrapped in lettuce leaves like a burrito; however, switching the combo to spoon food is far less messy for party guests—and just as delicious.
8 oz (250 g) lean ground pork
1 clove garlic, minced
1 tbsp (15 mL) peanut oil
1 stalk lemon grass, white part only, finely chopped
1 tsp (5 mL) fish sauce
2 tbsp (25 mL) freshly squeezed lime juice
1½ tsp (7 mL) brown sugar
½ tsp (2 mL) hot chili flakes
½ cup (125 mL) finely grated carrot
2 tbsp (25 mL) finely chopped fresh coriander
2 large green onions, thinly sliced, divided
5 to 6 pieces romaine lettuce, preferably hearts
24 flat-bottom Chinese spoons
1. In a mixing bowl, loosen pork; thoroughly mix in garlic. Heat oil over medium heat in a medium frying pan until shimmering and hot. Evenly add pork; let cook without stirring for a minute or 2 to lightly brown. Add lemongrass. Sauté 3 to 4 minutes, stirring occasionally, or until pork is hot and fragrant.

2. Meanwhile, stir fish sauce with lime juice and sugar. Sprinkle over hot pork; add chili flakes and carrot. Stir for 1 to 2 minutes, or until hot. (If making ahead, stop here. Cover and refrigerate for up to a day, then reheat until hot.) Stir in coriander and half of green onion; remove from heat.

3. Cut lettuce lengthwise in half or thirds; then shred crosswise very finely. Line spoons with some of shreds. Top with a spoonful of hot pork mixture; top with a few green onion slices for garnish. Serve right away.
SHARE