Spicy Poached Salmon with Garlic Scape Salsa
Summer 2012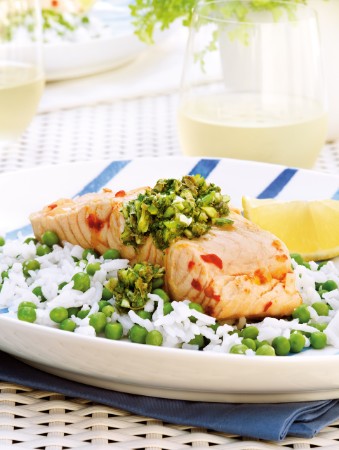 Spicy Poached Salmon with Garlic Scape Salsa
Summer 2012
BY: Lucy Waverman
In the heat of summer, a refreshing dish like poached salmon is perfect to wake up the taste buds. This spicy preparation is perfect with rice and stir-fried baby bok choy, green beans, peas or a simple salad.
4 cups (1 L) water
2 tbsp (30 mL) Asian chili sauce
1 lemon, sliced in 6 pieces
1 cup (250 mL) onion, sliced
2 tbsp (30 mL) sugar
3 tbsp (45 mL) fish sauce
4 salmon fillets, 6 oz (175 g) each
1 Combine water, Asian chili sauce, lemon slices, onion, sugar and fish sauce in a skillet over high heat. Bring to boil, reduce heat to medium-low and simmer for 5 minutes or until poaching liquid is flavourful. Raise heat to high, bring to boil and add salmon skin-side down. Immediately reduce heat to low.

2 Spoon a few ladlefuls of liquid over the top of the salmon, cover skillet and poach for 5 to 7 minutes depending on thickness.

3 Remove from heat, uncover and let salmon cool completely in liquid.

4 Remove skin before serving and top with Garlic Scape Salsa (recipe below).

Serves 4


GARLIC SCAPE SALSA
Garlic scapes have a garlicky but not overpowering flavour. Mixed with capers and small gherkins, this salsa, reminiscent of a salsa verde, is a lovely accompaniment to the salmon.

½ cup (125 mL) chopped garlic scapes
½ cup (125 mL) chopped parsley
2 tbsp (30 mL) capers
2 gherkins, chopped, about 1½ tsp (7 mL)
1 tbsp (15 mL) lemon juice
½ cup (125 mL) olive oil
Salt and freshly ground pepper
1 Combine all ingredients in a food processor and process until just slightly chunky.
Makes 1 cup (250 mL) salsa
SHARE