Spicy Panko-Crusted Chicken
Printemps 2011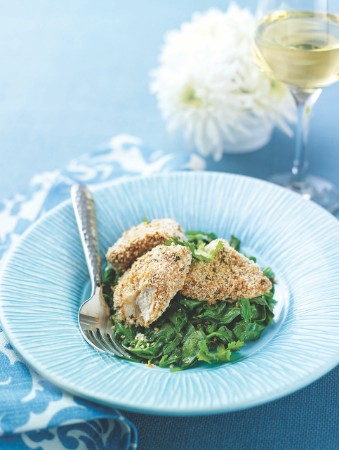 Spicy Panko-Crusted Chicken
Printemps 2011
BY: Heather Trim
Weeknight dinners can be a challenge—this one's fast and flavourful. The yogurt adds moisture and helps to tenderize the chicken, too. The panko crumbs make everything just a bit better as they add crunch that ordinary bread crumbs just don't have. Look for them near the fish department as they're an excellent coating for fish too.
Vegetable or olive oil
⅓ cup (75 mL) plain yogurt
2 tbsp (25 mL) Indian spice paste—your favourite flavour
1¼ cups (300 mL) panko bread crumbs
2 tbsp (25 mL) finely chopped coriander
1½ lbs (750 g) skinless boneless chicken breasts, 3 to 4
Salt
1 pkg (142 g) baby spinach, about 8 cups (2 L) packed
2 tsp (10 mL) butter
½ inch (1 cm) piece peeled ginger, minced
Pepper
1 Preheat oven to 425°F (220°C). Line a baking sheet with parchment paper. Generously brush parchment with oil.

2 In a medium bowl, stir yogurt with Indian spice paste. Place panko and coriander in a large bowl. Cut each breast into 4 large chunks. Working with half the chicken at a time, place in yogurt mixture. Then place yogurt-covered chicken into panko, turning to coat. Sprinkle with additional crumbs where you've missed any spots. Place on baking sheet. Repeat with remaining chicken. Lightly sprinkle with salt.

3 Bake in preheated oven until golden-tinged, turning halfway through, 20 minutes.

4 Just before chicken has finished baking, wash spinach but leave water clinging to leaves. Melt butter in large frying pan over medium-high heat. Add ginger and sauté until fragrant, about 30 seconds. Add spinach and sauté just until leaves wilt, about 2 minutes.Season with salt and pepper. Serve chicken on top of spinach.
SHARE