Spicy Nero di Seppia Spaghetti with Squid
Holiday 2014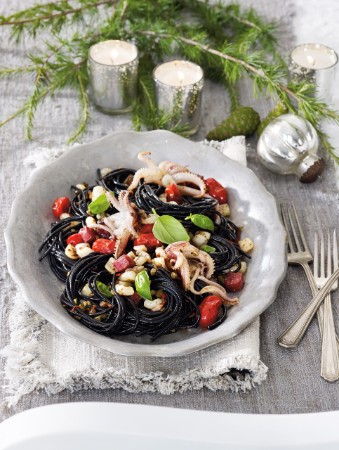 Spicy Nero di Seppia Spaghetti with Squid
Holiday 2014
BY: Kristen Eppich
Nero di seppia is a wheat-and-semolina pasta tinted with squid ink. It has the subtle flavour of the sea, and its elegant look makes it ideal for entertaining.
10 oz (300 g) squid, bodies and tentacles
2 tbsp (30 mL) olive oil
2 tsp (10 mL) honey
1 tsp (5 mL) finely chopped garlic
¼ tsp (1 mL) salt
Freshly ground pepper
3 oz (90 g) thickly sliced soppressata salami, chopped
2 cups (500 mL) grape or cherry tomatoes
¼ cup (60 mL) finely chopped shallots
1 Thai red chili, seeded, sliced
⅓ cup (80 mL) white wine
2 tbsp (30 mL) chopped capers
10 oz (300 g) nero di seppia spaghetti
½ cup (125 mL) torn fresh basil leaves
1 Clean squid and pat dry. Chop bodies into ½-inch (1-cm) dice, leaving tentacles whole. Place in a large bowl. Stir in 1 tbsp (15 mL) olive oil, honey, garlic, salt and pepper. Allow to marinate at room temperature while preparing other ingredients.

2 Heat a large nonstick skillet over high heat. Add remaining oil and soppressata. Cook until golden, 2 to 3 minutes, spoon to a plate. Return pan to heat and add tomatoes. Cook for 3 minutes or until they begin to pop and sizzle and skin is brown. Transfer tomatoes to plate with soppressata. Return pan to heat and add squid. Cook for 1 minute then remove from pan and reserve.

3 Reduce heat to medium and add shallots and chili to skillet. Cook for 3 minutes, or until tender. Add wine and capers to pan and bring to a boil. Boil for 1 minute or until reduced by half. Remove from heat. Coarsely chop tomatoes and return to pan along with soppressata and squid. Reserve.

4 Bring a large pot of salted water to a boil. Cook spaghetti until al dente, 8 to 10 minutes. Reserve ½ cup (125 mL) pasta cooking water, then drain. Add spaghetti to skillet over low heat. Toss to combine with the squid mixture, adding enough pasta water to coat the noodles.

5 Stir in basil and divide between 4 plates.
SHARE