Spicy Chickpea Tacos
Winter 2010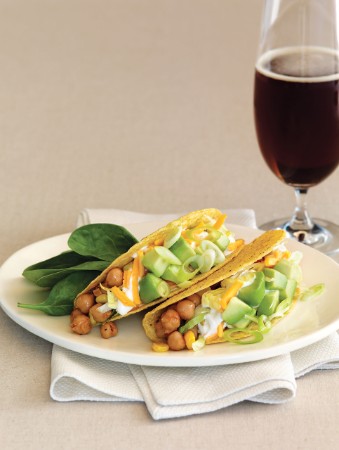 Spicy Chickpea Tacos
Winter 2010
BY: Heather Trim
Tacos are all about the seasonings and toppings. Here we've made them with chickpeas instead of meat, yet used the same great toppers. Another plus—tacos are one of the easiest meals going, as you probably already have most of the ingredients.
1 tbsp (15 mL) vegetable oil
1 small onion, diced
1 red pepper, chopped
2 large garlic cloves, minced
1 can (540 mL) chickpeas, rinsed and drained
1 large plum tomato, chopped
1 tbsp (15 mL) chili powder
1 tsp (5 mL) ground cumin
1 tsp (5 mL) oregano leaves
½ tsp (2 mL) salt
½ tsp (2 mL) hot pepper sauce
1 cup (250 mL) frozen corn
8 to 10 taco shells, warmed

Toppings: shredded lettuce, green onion, diced avocado or guacamole, shredded cheddar cheese, sour cream and chopped coriander
1. Heat oil in a large frying pan over medium heat. Add onion, red pepper and garlic, stir until onion is soft, 3 to 5 minutes. Add chickpeas, tomato and seasonings. Cook stirring frequently just until tomato begins to soften, about 2 minutes. Then stir in corn. Continue to stir until corn is hot, 3 to 5 minutes. Taste, and add more hot sauce if needed.

2. Partially fill taco shells with chickpea mixture, then layer with your favourite toppings.
SHARE