Spicy 'Nduja Palmiers
Summer 2016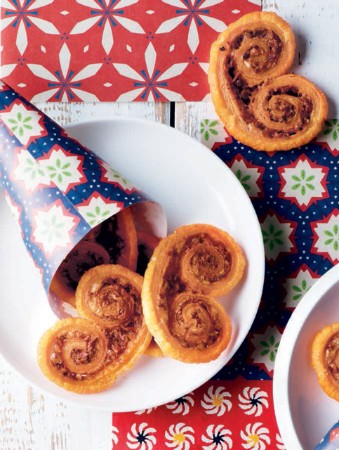 Spicy 'Nduja Palmiers
Summer 2016
BY: Signe Langford
Start with frozen puff pastry for these two-bite savouries. Most packages come with two rolls in the box; so we've concocted a different fillingfor each sheet. 'Nduja is a traditional Italian, spicy, smoky, spreadable sausage. Look for it in gourmet shops, at the deli counter of Italian grocers and online.
1 sheet frozen puff pastry, thawed according to package directions
¾ cup (175 mL) 'nduja
¼ cup (60 mL) grated fresh Parmesan cheese
1 tbsp (15 mL) finely chopped fresh thyme
1 Preheat oven to 375°F (190°C).

2 Line 2 cookie sheets with parchment paper and set aside.

3 Lightly flour the counter and rolling pin and gently roll out the sheet of puff; the goal is to add about 1 inch (2.5 cm) in each direction.

4 Add the 'nduja, Parmesan and thyme to a small bowl and stir well to combine. Using an offset spatula (the sort of blunt spreader used for icing a cake) spread the 'nduja mixture evenly and right to the edges of the pastry.

5 Working from one of the shorter ends of the rectangle, start rolling the pastry toward the middle point. When the roll comes to the centre point of the rectangle, stop, and repeat from the opposite side. You should end up with 2 pinwheel tubes attached down the centre.

6 Pop this roll into the fridge to firm up a bit before slicing, about 20 minutes. Then, using a very sharp knife, cut into approximately ¼-inch-thick (5-mm) slices and lay them onto the prepared sheet pan.

7 Bake for about 25 minutes or until puffed and golden. Allow to cool on sheet pans, then transfer to cooling rack. These are best fresh from the oven but can be stored in an airtight container for up to 1 day.
SHARE