Spiced Steak Huevos Divorciados
Holiday 2020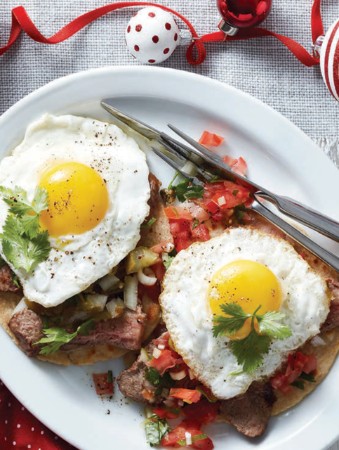 Spiced Steak Huevos Divorciados
Holiday 2020
BY: Victoria Walsh
For me, living down the street from Easy restaurant in the Parkdale neighbourhood of Toronto meant having access to delicious huevos divorciados (a.k.a. divorced eggs). Since moving, I've begun to make them on my own. This recipe is inspired by the fried-egg Mexican dish, which is known for boasting two different sauces—red and green. Here, we've added steak, but if you aren't up for steak 'n' eggs come brunch-time, it's delicious without.
STEAK
2 strip-loin steaks, each at least
1 inch (2.5 cm) thick
1½ tsp (7 mL) coarse salt
1/2 tsp (2 mL) each ground cumin and smoked paprika

4 tomatillos
1/2 jalapeño
Olive oil
Generous pinches of salt

FRESH RED SALSA
2 red tomatoes, seeded and finely chopped
2 green onions, chopped
1/4 cup (60 mL) finely chopped cilantro
1/4 lime
2 tsp (10 mL) extra virgin olive oil
Pinch of ground cumin
Pinch of salt

FRESH GREEN SALSA
1/2 white onion, finely chopped
1 garlic clove, minced
1/4 cup (60 mL) finely chopped cilantro
1 tsp (5 mL) finely chopped capers (optional)
1 tbsp (15 mL) white wine vinegar
Generous pinches of salt
12 small corn tortillas
2 tsp (10 mL) each olive oil and butter
Olive oil
12 eggs
1. Begin preparing steaks by removing them from the fridge. Pat dry with paper towels and set in a shallow dish. Sprinkle with salt, cumin and paprika. Rub into steak. Bring steaks to room temperature, about 1 hour.

2. About half an hour before serving, preheat oven to 350°F (180°C).

3. Slice tomatillos in half. Brush them and the jalapeño with olive oil. Sprinkle with salt. Set on a small baking sheet. Roast in the centre of preheated oven until softened slightly, 15 to 20 minutes.

4. Meanwhile, make red and green salsas. For red salsa, stir red tomato with green onion and 1/4 cup (60 mL) cilantro in a small bowl. Squeeze lime juice overtop. Drizzle with olive oil and sprinkle with cumin and salt. Taste and adjust seasoning and lime juice, as you like.

5. For green salsa, stir white onion and garlic with 1/4 cup (60 mL) cilantro and capers. Stir in vinegar. Season with salt. Set aside. When tomatillos and jalapeños are cool enough to handle, finely chop and add to green salsa ingredients. Stir to mix. Taste and adjust seasoning to your liking.

6. Wrap a stack of 6 tortillas in foil. Repeat with the remaining 6 tortillas. Place in a warm oven and allow to warm, 15 to 20 minutes.

7. When steaks are at room temperature, set a grill pan or heavy-bottom frying pan on medium-high heat. Add oil and butter. Carefully swirl to coat pan. When frothy, add steaks. Cook until golden, about 2 to 3 minutes per side for rare. Remove to a cutting board. Loosely cover with foil. Let stand for 5 minutes.

8. Meanwhile, coat a large frying pan with oil. Set over medium heat. Crack in 4 eggs. Cook, partially covered, until whites are set and yolks are cooked to your liking, about 2 to 5 minutes.

9. Thinly slice steak. Place 2 tortillas on a plate. Top both with steak slices. Spoon red salsa over one and green salsa over the other. Top each with a fried egg and a cilantro sprig. Repeat with remaining ingredients, serving 1 plate at a time so tortillas don't get too soggy.
SHARE