Spiced Olive & Chorizo Torta Bites
Autumn 2012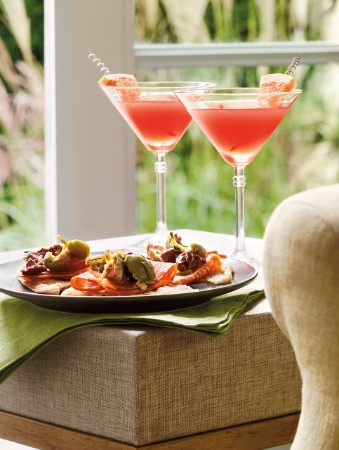 Spiced Olive & Chorizo Torta Bites
Autumn 2012
BY: Victoria Walsh
This is one of the simplest appetizers you'll ever prepare. But don't be fooled: these bites are as delicious as any appetizer you may have slaved over for hours. Find tortas in the bakery section at your local grocery store or at a gourmet food shop. If making ahead, roasted olives will keep well covered and refrigerated for up to 1 week. Warm slightly in the microwave before assembling.
1 cup (250 mL) olives, preferably a mix
1 lemon
1 tbsp (15 mL) coarsely chopped fresh rosemary
1 tsp (5 mL) olive oil
3 tortas, preferably sweet olive oil
6 slices of thin deli-style chorizo or soppressata, torn in half
1 Preheat oven to 400°F (200°C).

2 Place olives in a small baking dish, just big enough to hold olives. Coarsely grate 1 tsp (5 mL) zest from lemon. Sprinkle zest and rosemary over olives. Drizzle with olive oil. Stir to evenly coat. Roast in oven for 10 to 15 minutes or until roasted. Remove and let cool.

3 Meanwhile, break each torta into 4 rough shaped pieces. Fold and layer each piece of chorizo over each piece of torta. When olives are cool enough to handle, use a wide bladed knife to carefully smash open each olive. Remove pits, then coarsely chop olives, if you wish. Sprinkle olive mixture over chorizo-topped tortas. Serve within an hour of assembling.
SHARE