Spiced Mussels in White Wine
Spring 2005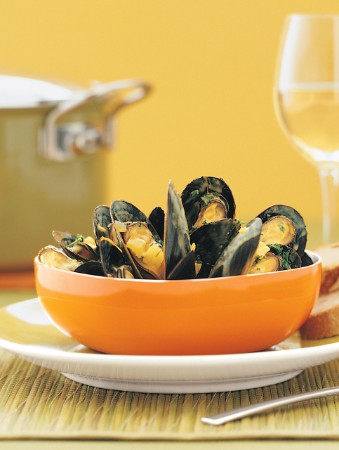 Spiced Mussels in White Wine
Spring 2005
BY: Lucy Waverman
This dish is particularly good served with some great bread to sop up all the juices. The spicy sauce complements the sweetness of the mussels.
1 tbsp (15 mL) butter
1 small onion, finely chopped
1 clove garlic, chopped
1 tsp (5 mL) mild curry powder
½ tsp (2 mL) fennel seeds
1 cup (250 mL) white wine
2 lb (1 kg) mussels
1 cup (250 mL) whipping cream
2 tbsp (25 mL) chopped fresh parsley
Salt and freshly ground pepper
1. Heat butter in large pot on medium heat. Add onion, garlic, curry powder and fennel seeds. Sauté 1 minute. Add wine and bring to boil. Stir in mussels, cover pan and cook until mussels open, shaking pan occasionally.

2. Remove mussels and reduce liquid by half. Stir in cream and cook together for 3 minutes or until slightly thickened. Add parsley and season. Return mussels, stir everything together and serve.
SHARE