Spiced Beef Pockets
Spring 2015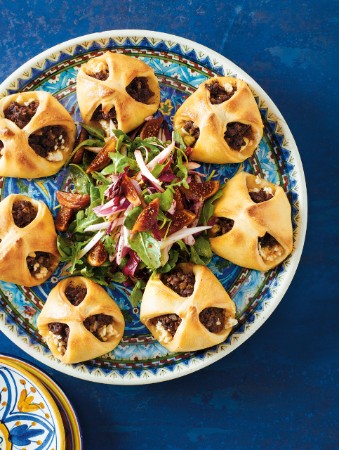 Spiced Beef Pockets
Spring 2015
BY: Lucy Waverman
These excellent spiced beef pockets are made with an easy, no-fail yogurt-based dough. The fillings can be varied, and any cheese, eggplant or other vegetable mixtures may take the place of the beef. You can make small ones as an hors d'oeuvre but I prefer the larger size as a first course before a lighter main. There are many filled pastries in Middle Eastern cooking, some made with bread dough. This one does not require yeast, so is simpler to make. Dried berries are used for a flavour injection in many dishes and in this dish, blackcurrant jam takes their place.
DOUGH
¾ cup (175 mL) plain yogurt (not Greek)
1 egg
3 tbsp (45 mL) butter, melted
½ tsp (2 mL) salt
¼ tsp (1 mL) baking soda
1¾ cups (425 mL) all-purpose flour, plus extra for dusting

FILLING
1 tbsp (15 mL) olive oil
1 cup (250 mL) finely chopped onions
2 tsp (10 mL) finely chopped garlic
1 lb (500 g) ground beef
2 tbsp (30 mL) dried mint
1 tbsp (15 mL) ground cumin
2 tsp (10 mL) ground coriander
1 tsp (5 mL) ground allspice
½ tsp (2 mL) cayenne pepper
Salt
1 cup (250 mL) beef or chicken stock
1 tbsp (15 mL) tomato paste
1 tbsp (15 mL) blackcurrant jam
1 tbsp (15 mL) red wine vinegar
¼ cup (60 mL) chopped freshly parsley
1 cup (250 mL) grated feta cheese
1 egg, lightly beaten
1 Stir yogurt with egg, butter and salt in a large bowl. Combine baking soda with flour in a small bowl. Gradually add flour mixture to yogurt mixture, stirring with a wooden spoon until all flour has been added. Bring together into a ball, kneading gently with hands.

2 Scrape dough on to a lightly floured surface. Dusting with more flour as needed, knead for 6 to 8 minutes, or until smooth and elastic. Place dough in a clean bowl. Cover with plastic wrap and refrigerate for 40 minutes.

3 Heat oil in skillet over medium-high heat. Add onions and garlic. Sauté 2 minutes or until beginning to soften, then add beef, mint, cumin, coriander, allspice and cayenne. Season with salt and sauté until beef loses pink colour, about 3 to 4 minutes. Add stock, tomato paste, jam and vinegar. Bring to boil. Reduce heat and simmer for 15 minutes or until meat is cooked through and the sauce is thickened. Remove from heat and cool. Stir in parsley and reserve.

4 Preheat oven to 425°F (220°C). Line a baking sheet with parchment paper.

5 Divide dough into 2 portions. Roll first portion to ⅛-inch (3-mm) thickness. Cut out as many 6-inch (15-cm) triangles as possible using a sharp knife. Wrap and reserve dough scraps. Place a heaping tbsp (15 mL-plus) of feta into the centre of each triangle. Top with ¼ cup (60 mL) beef mixture. Pull corners to centre and crimp together. Place on prepared baking sheet. Roll out remaining dough with reserved scraps. Repeat assembly with remaining cheese and beef mixture and transfer to baking sheet.

6 Brush the top of the pockets with beaten egg. Bake for 15 minutes, or until golden and cooked through. Remove to a rack to cool. Serve with Belgian Endive and Fig Salad (recipe follows) as a first course.
Serves 8 as a first course

BEGIAN ENDIVE & FIG SALAD

The heady flavours of this salad complement the spiciness of the beef pockets. Figs grow all over the Middle East and are used extensively both fresh and dried.

2 green Belgian endives
2 red Belgian endives
6 dried figs
1 cup (250 mL) pomegranate juice
1 cup (250 mL) arugula
Salt and freshly ground pepper
2 tbsp (30 mL) olive oil
1 Halve endives lengthwise and remove cores. Slice into ⅓-inch (8-mm) thickness.

2 Combine figs and pomegranate juice in a pot. Bring to boil, then simmer for 5 minutes or until figs are tender. Remove figs with a slotted spoon and allow to cool. Continue simmering pomegranate juice to reduce until syrupy, about 5 to 7 minutes.

3 Cut figs into slivers. Toss Belgian endive with figs and arugula. Season with salt and pepper. Whisk olive oil with 1 tbsp (15 mL) pomegranate syrup and drizzle over salad. Any leftover pomegranate syrup can be kept in the fridge and used to add sweetness to
sauces and dressings.
SHARE