Spice-Rubbed Salmon on Pumpernickel with Greens in a Mustard Vinaigrette
Début de l'été 2013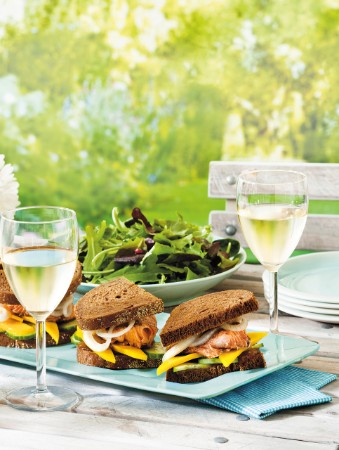 Spice-Rubbed Salmon on Pumpernickel with Greens in a Mustard Vinaigrette
Début de l'été 2013
BY: Heather Trim
Indian food is often served with various styles of pickles. Our crunchy sweet-and-sour onion pickle contrasts beautifully with the garam masala spice mix on the salmon and may be the fastest pickle you'll ever make.As for the cucumber, it too is often used in Indian cooking to cool down the mouth if the dish is super spicy. In this case it's not spicy but the cucumber adds a nice crunch in the sandwich.
½ sweet Vidalia onion, thinly sliced into rings
¼ cup (60 mL) rice-wine vinegar
2 tbsp (30 mL) granulated sugar
½ tsp (2 mL) salt
Skinless salmon fillet, thinner tail end, 8 oz (250 g)
1 tsp (5 mL) garam masala
1 ripe mango
4 slices pumpernickel or multi-grain bread, or 1 baguette
2 tbsp (30 mL) mango chutney
8 to 12 very thin slices cucumber

GREEN SALAD
2 tsp (10 mL) red-wine vinegar
5 tsp (25 mL) olive oil
¼ tsp (1 mL) Dijon mustard
Generous pinches salt and grinding pepper
6 cups (1.5 L) loosely packed mesclun greens
1 Place onion slices in a small bowl. Place vinegar, sugar and ¼ tsp (1 mL) salt in a small saucepan. Heat and stir over low heat just until sugar dissolves, about 1 minute. Pour over onions. Refrigerate, stirring occasionally, until chilled, about 30 minutes.

2 Preheat oven to 400°F (200°C).

3 Line a baking sheet with parchment paper. Place salmon on parchment then sprinkle with garam masala and remaining ¼ tsp (1 mL) salt. Roast until a knife inserted in centre of salmon is very warm, 10 to 12 minutes. Cool. Remove and discard salmon skin. Slice salmon in half lengthwise.

4 Peel mango, then very thinly slice about 4 to 6 pieces, enough for a single layer in sandwiches. Spread 2 slices of bread with mango chutney. If using baguette, slice in half then spread with chutney. Place cucumber in a single layer on mango chutney, followed by mango then salmon. Remove onions from liquid, shaking excess liquid off. Top salmon with onion pickle, then remaining bread to form sandwiches. Diagonally slice in half.

5 In a medium bowl, whisk vinegar with oil, Dijon, salt and pepper. Add greens and toss. Serve with sandwiches.
SHARE