Spice-Roasted Root Vegetables
Holiday 2008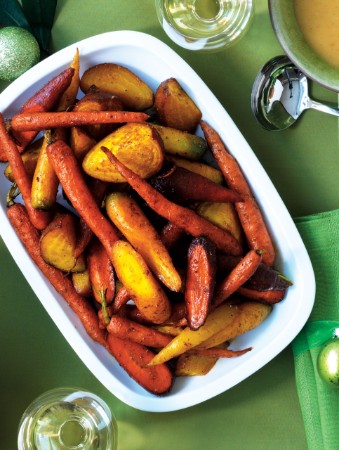 Spice-Roasted Root Vegetables
Holiday 2008
BY: Lucy Waverman
Use carrots, squash, parsnips, turnips, whole garlic cloves, small onions—sometimes I include zucchini and fennel but I throw them in just for the last 5 minutes of simmering. If you can find baby vegetables use them but if not just buy a mixture and cut them into about 2-inch (5-cm) lengths.
10 cups (2.5 L) mixed root vegetables
¼ cup (50 mL) vegetable oil
2 tbsp (25 mL) medium curry paste
Salt to taste
1. Preheat oven to 400ºF (200ºC).

2. Add vegetables to a pot of cold water and bring to boil over high heat. Reduce heat and simmer for 5 to 10 minutes or until crisp tender. Drain and toss with oil and curry paste.

3. Spread vegetables over a baking sheet and bake for 30 to 40 minutes, stirring occasionally, or until browned and cooked through. Season with salt.
SHARE