Spatchcocked Roast Chicken with Chestnut Stuffing & Gravy
Autumn 2009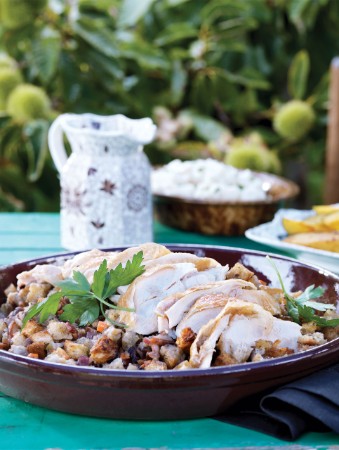 Spatchcocked Roast Chicken with Chestnut Stuffing & Gravy
Autumn 2009
BY: Marilyn Bentz-Crowley
Flattened poultry cooks quite evenly while the stuffing bakes beneath in the baking dish.The butcher can spatchcock the chicken—but retrieve the severed backbone to flavour the generous amount of gravy. The mixture of herbs in the stuffing can be varied according to your taste or what's available.
1 large roasting chicken

Gravy
1 large carrot
1 large stalk celery
1 medium onion
½ cup (125 mL) all-purpose flour
2 cans, 384 mL each, less-salt concentrated chicken broth
1 large sprig fresh thyme
1 bay leaf
1 to 2 tsp (5 to 10 mL) balsamic vinegar
Freshly ground pepper

Stuffing
8 cups (2 L) fresh artisan bread cubes, such as sourdough
4 oz (125 g) pancetta or bacon
1 large leek, thinly sliced white and light-green parts only
2 large carrots, diced
2 large stalks celery, diced
2 tsp (10 mL) chopped fresh sage or 1 tsp (5 mL) dried
1 tbsp (15 mL) chopped fresh thyme
1 tsp (5 mL) dried summer savoury
About 7 oz (200 g) peeled cleaned chestnuts, coarsely chopped, about 1¼ cups (300 mL)
⅓ cup (75 mL) chopped fresh parsley, divided
1. To spatchcock chicken, lay on large cutting board. Using a chef's knife, cut into cavity along either side of backbone; reserve backbone. Then force chicken open; cut along each side of breastbone. Remove and discard breast bone. Flatten chicken; pull or cut away loose fat. Discard fat; return chicken to refrigerator until needed.

2. Brown backbone in a large pot over medium heat for several minutes while coarsely chopping carrot, celery and onion. Add vegetables all at once. Cook, stirring often, for 7 minutes, or until vegetables begin to soften.

3. Stir flour into hot vegetables; sauté 3 minutes, stirring frequently. Add both cans of broth and 1 can of water. Stirring frequently, bring to a boil. Add thyme and bay leaf; cover. Simmer 45 minutes, stirring occasionally.

4. Strain gravy; discard solids. Stir in 1 tsp (5 mL) vinegar and several grindings of black pepper. Add more water if needed to thin gravy, there should be nearly 4 cups (1 L). Taste and add more vinegar or black pepper as needed. (Cover and refrigerate for up to a day if not using right away. Heat before serving.)

5. Preheat oven to 350°F (180°C).

6. Spread bread cubes on a baking tray. Bake 15 to 20 minutes or until somewhat dry to the touch and lightly golden in spots. Cool on tray on a rack.

7. Slice pancetta crosswise into small pieces; sauté in a large frying pan over medium heat for 5 minutes or until lightly browned and most fat is rendered. Remove pancetta; leave a slick of fat in pan. Add vegetables; sauté, turning frequently, for 5 minutes. Remove from heat; stir in sage, thyme, savoury and reserved pancetta.

8. In a large mixing bowl, mix bread cubes with pancetta mixture. Coarsely chop chestnuts; stir in. Stuffing should feel somewhat moist; if dry, stir in ½ cup (125 mL) water or more. Stuffing should not be wet. Coat a 9 x 13-inch (23 x 33-cm) baking dish with nonstick spray. Turn mixture into baking dish; smooth top. (Stuffing can be made ahead, covered and refrigerated for up to a day.)

9. Lay chicken flat over stuffing. Bake uncovered for 60 to 70 minutes or until chicken is golden and internal temperature of breast is 170°F (75°C).

10 Stir several large pinches of parsley into hot gravy in pitcher. Stir stuffing well to combine crusty outer bits with moister areas; then turn onto a warmed serving platter. Sprinkle with parsley. Slice chicken; lay over stuffing. Lightly sprinkle with remaining parsley. Serve with side dishes of green beans, squash and mashed potatoes for a traditional roast dinner.
SHARE