Spatchcock Chicken with Spring Vegetables
Spring 2018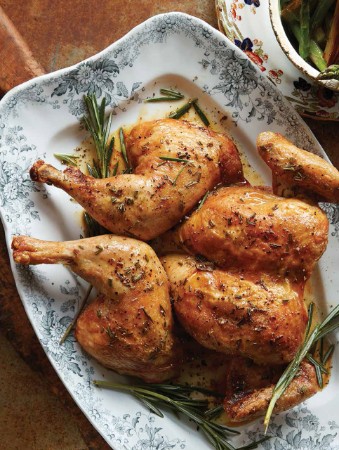 Spatchcock Chicken with Spring Vegetables
Spring 2018
BY: Lucy Waverman
Flattened chicken cooks more quickly than a whole chicken without losing that great roasted flavour. It is readily available at butcher shops, or you can butterfly your own by removing the back and breast bones. Serve with smashed buttered red potatoes or oven-baked sweet-potato fries.
1 tbsp (15 mL) chopped fresh rosemary
3 tbsp (45 mL) olive oil, divided
Salt and freshly ground pepper
1 chicken, 3½ lbs (1.75 kg), butterflied
3 leeks, white and light green only, cut in 2 inch (5 cm) pieces
1 lb (500 g) asparagus spears, trimmed
1 cup (250 mL) chicken stock, divided
1 Preheat oven to 400°F (200°C).

2 Combine rosemary, 2 tbsp (30 mL) olive oil, salt and pepper and rub over chicken.

3 Scatter leeks on base of a baking sheet and sprinkle with salt and pepper. Place chicken, skin-side up, on top of the leeks and bake for 40 to 45 minutes depending on the size of the chicken.

4 Cut asparagus spears in 2-inch (5-cm) pieces. Toss asparagus with remaining 1 tbsp (15 mL) oil and season with salt and pepper. Add to the baking sheet surrounding the chicken. Roast alongside chicken for 10 minutes longer or until chicken juices are clear and asparagus is tender.

5 Remove from oven and place chicken on a carving board. Reserve leeks and asparagus and keep warm.

6 Swirl ½ cup (125 mL) stock over baking sheet, scraping up any sticky bits. Pour any drippings, fat and the stock into a jug. Skim and discard as much fat as you can.

7 Pour liquid into a pot and add remaining ½ cup (125 mL) chicken stock. Reduce until slightly thickened, about 3 to 5 minutes.

8 Slice chicken down through the breast into 2, remove leg and thigh from each half. Serve with leeks, asparagus and sauce.
SHARE