Spareribs with Two Sauces
Été 2007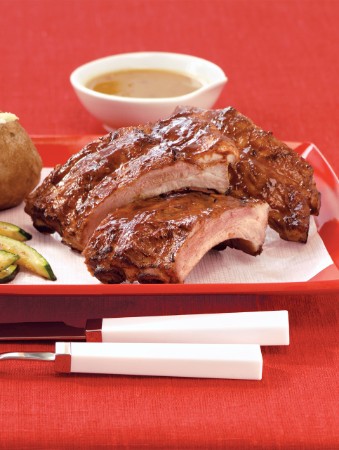 Spareribs with Two Sauces
Été 2007
BY: Lucy Waverman
The South has many different ways of cooking spareribs, depending on where you come from. Some are cooked with a tomato-based sauce, some a vinegar-based one. I prefer the latter: the vinegar balances the fat and gives more flavour to the meat. This recipe features the vinegar-based sauce. The ribs are first braised in the oven and then finished on the grill. Serve with the sauce from the ribs as well as my take on the superb chocolate barbecue sauce I had in Charleston at Tristan restaurant.
Marinade
1 cup (250 mL) apple cider vinegar
¼ cup (50 mL) Dijon mustard
3 tbsp (45 mL) brown sugar
1 tsp (5 mL) hot pepper flakes
½ tsp (2 mL) cayenne
½ tsp (2 mL) salt

Ribs
2 racks pork back ribs

Chocolate Barbecue Sauce
1 cup (250 mL) ketchup
¼ cup (50 mL) brown sugar
¼ cup (50 mL) orange juice
1 tbsp (15 mL) Worcestershire sauce
2 tbsp (25 mL) rice wine vinegar
¼ cup (50 mL) finely chopped bittersweet chocolate
1 tsp (5 mL) hot pepper sauce
1 tsp (5 mL) kosher salt
1. Combine apple cider vinegar, mustard, brown sugar, hot pepper flakes, cayenne and salt. Whisk to dissolve sugar. Pour over ribs. Marinate for 1 hour on the counter, turning once.

2. Preheat oven to 350ºF (180ºC).

3. Place ribs, marinade and 1 cup water in a baking pan and cover with foil. Bake for 1 to 1½ hours or until ribs are tender. Reserve ribs and braising liquid separately. If braising liquid is thin pour into a pot and boil for a few minutes until it thickens.

4. Preheat barbecue to medium-low and oil the grate. Slowly grill ribs, turning several times or until brown and crispy basting occasionally with braising liquid. It takes about 20 to 30 minutes.

5. Whisk Chocolate Barbecue Sauce ingredients together in a pot. Bring to simmer over medium heat, stirring constantly. Let simmer 2 to 3 minutes until sugar dissolves. Cool.

6. Cut ribs into pieces and serve with Chocolate Barbecue Sauce and remaining braising liquid for dipping.
SHARE