Spanish-Style Corn Muffins
Printemps 2017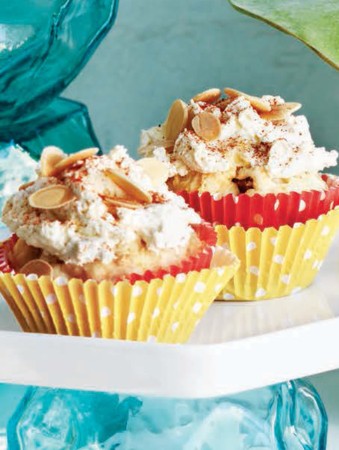 Spanish-Style Corn Muffins
Printemps 2017
BY: Amy Rosen
Slightly sweet with a bit of cornmeal crunch, these cupcake doppelgangers are filled with goodies like chorizo and olives—topped with cream cheese flecked with toasted almonds and smoked paprika—for an iole! take on the everyday. Serve two muffins per person. Divvy up the leftovers amongst your guests; they will keep for up to three days in an airtight container.
3 cups (750 mL) flour
⅓ cup (80 mL) sugar
1 cup (250 mL) medium-grind cornmeal
2 tbsp (30 mL) baking powder
1 tsp (5 mL) sea salt
1½ cups (375 mL) milk
¾ cup (175 mL) butter, melted and cooled
2 large eggs, beaten
1 link, about 1 cup (250 mL), fully cooked
Portuguese-style spicy smoked chorizo, finely chopped
¼ cup (60 mL) sliced green olives, drained
2 pkgs (each 227 g) plain whipped cream cheese
½ cup (125 mL) sliced blanched almonds, toasted
1 tsp (5 mL) smoked paprika
1. Preheat oven to 350°F (180°C).

2. Line a muffin tin with 12 paper liners.

3. To the large bowl of an electric mixer with the paddle attachment, add flour, sugar, cornmeal, baking powder and salt. Beat to combine. Add milk, butter and eggs. Beat again until just combined. Stir in sausage and green olives.

4. Fill each liner with 1 heaping tbsp (15 mL plus) of filling, till they're filled to the top. Bake in preheated oven for 30 minutes or until lightly browned. When cool to touch, remove muffins from tin and repeat with another batch of 12.

5. When all 24 muffins are cool, ice them with whipped cream cheese and sprinkle with toasted almonds and paprika.
SHARE