Spanish-Inspired Breakfast Sandwich
Holiday 2016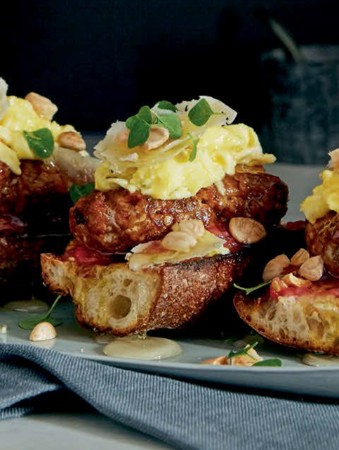 Spanish-Inspired Breakfast Sandwich
Holiday 2016
BY: Victoria Walsh
Upgrade the classic breakfast sandwich using Spanish techniques and ingredients. Pan con tomate—a traditional Spanish toast tapa often enjoyed at breakfast—makes a luscious base. Prepare chorizo patties using fresh sausage. Top soft scrambled eggs with Spanish Iberico cheese, a popular cheese in Spain made from a delicious mix of sheep, cow and goat milk and found here in your local grocery store or gourmet cheese shop. Its rich, buttery yet slightly tangy and herbaceous flavour is then complemented with a sprinkling of toasted almonds and a drizzle of honey. If you can, use a floral-scented honey
PAN CON TOMATE
1 baguette
3 vine-ripened tomatoes
Generous pinches of sea salt, such as Maldon or fleur de sel
1 garlic clove

SANDWICHES
6 fresh chorizo sausages
1 to 2 tsp (5 to 10 mL) olive oil
6 eggs
1 tbsp (15 mL) water
Pinch salt
1 tsp (5 mL) butter
2 tsp (10 mL) olive oil, for drizzling
3 oz (90 g) Spanish Iberico cheese, shaved
2 tsp (10 mL) honey (optional)
2 tbsp (30 mL) chopped Marcona or toasted sliced almonds (see TIP)
Fresh thyme or oregano leaves, for garnish (optional)
1 Preheat oven to 425°F (220°C).

2 Prepare pan con tomate by slicing baguette crosswise into 3 pieces, each about 4 inches (10 cm) long. Cut each in half lengthwise. Place on a baking sheet. Toast until lightly golden, about 5 minutes.  Meanwhile, coarsely grate tomatoes into a medium bowl. Season with salt. Slice garlic clove in half. When toast is cool enough to handle but still warm, rub cut-sides of garlic clove over surface of toasted
bread. Set aside until ready to use.

3 Squeeze meat from a sausage casing and form into a patty. Repeat with remaining sausages so you have 6 patties in total. Lightly oil a frying pan. Add patties and set over medium heat. Cook until golden and cooked through, about 5 minutes per side. You may need to cook in batches. Keep warm, loosely covering with foil on a baking sheet in (warm but off) oven while you prepare eggs.

4 Meanwhile, whisk eggs with water and salt in a medium bowl. Melt butter in a frying pan, preferably nonstick set over medium-low heat. Add eggs. Cook, stirring and folding gently until softly scrambled, 4 to 7 minutes. Slow stirring towards the end allows scrambled eggs to hold together and be a bit omelette-like so they're easy to serve.

5 Divide toasted bread between plates. Moisten each toasted bread piece with at least 1 heaping tbsp (22 mL plus) grated tomato mixture. Drizzle with oil. Layer each with a sausage patty, eggs and cheese. Drizzle with honey and sprinkle with almonds. Garnish with fresh thyme or oregano leaves, if you like. Serve immediately.
TIP If toasting almonds, spread out on a baking sheet and toast in a preheated 425°F (220°C) oven until lightly golden, 2 to 3 minutes.
SHARE