Spanish Shrimp with Garlic and Sherry
Holiday 2012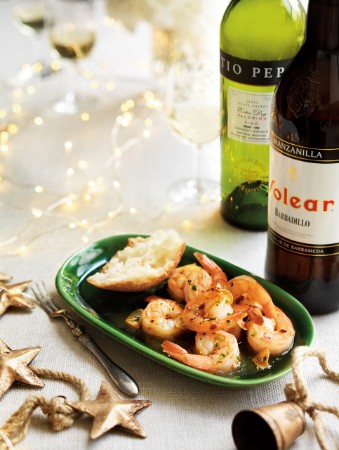 Spanish Shrimp with Garlic and Sherry
Holiday 2012
BY: Julia Aitken
In Spain, this addictive way with shrimp is usually cooked in a flameproof earthenware casserole called a cazuela, but a good heavy skillet does the job in Canada. Serve this either as a casual appetizer from a communal bowl, giving everyone a fork and some good bread to mop up the delectable cookingjuices, or spoon it over saffron rice for an easy weeknight supper.
1½ lbs (750 g) raw large shrimp in shells
Freshly ground black pepper to taste
12 cloves garlic
½ cup (125 mL) olive oil
¼ tsp (1 mL) hot pepper flakes
½ cup (125 mL) fino sherry
Kosher salt to taste
1 tbsp (15 mL) finely chopped fresh parsley
1 Peel shrimp, leaving tails and last segment of shell intact. Devein if necessary. Pat shrimp very dry on paper towels. Sprinkle with pepper to taste and set aside.

2 Peel and thinly slice 4 cloves of garlic. Crush remaining cloves of garlic with the flat side of a chef's knife (there's no need to peel them).

3 In a large heavy skillet, heat oil over medium-low heat. Add sliced garlic and cook, stirring often, until garlic is just lightly tinged with gold, about 3 minutes. Watch garlic carefully as it can become too brown quite quickly and overcooking it will make it taste bitter.

4 Remove skillet from heat and, with a slotted spoon, quickly remove sliced garlic to a paper-towel-lined plate. Set aside.

5 Pour oil from skillet through a fine sieve, reserving oil and discarding any browned bits of garlic. Wipe out skillet with paper towels.

6 Return oil to skillet. Increase heat to medium-high. Add shrimp, crushed garlic cloves and hot pepper flakes to skillet. Stir fry just until shrimp start to turn pink, about 1 minute.

7 Add sherry to skillet and bring to a boil. Cook, stirring, until shrimp are just firm, 1 to 2 minutes. With a slotted spoon, remove shrimp to a warm bowl.

8 Boil cooking juices, stirring constantly, until reduced and slightly thickened, 1 to 2 minutes.

9 Pour cooking juices over shrimp, discarding crushed garlic. Taste and add salt if necessary. Sprinkle with parsley and reserved sliced garlic.
Serves 6 as an appetizer, 4 as a main course
SHARE