Spanish Roasted Lamb
Spring 2009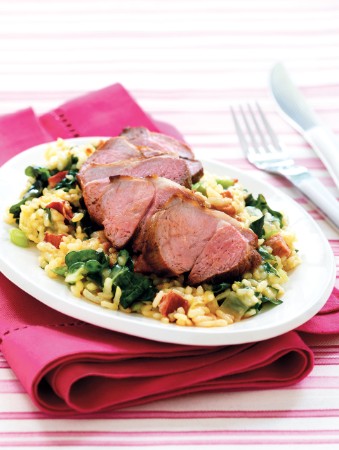 Spanish Roasted Lamb
Spring 2009
BY: Lucy Waverman
This is similar to roast lamb but cut in smaller pieces to roast very quickly. It is seasoned with Spanish seasonings and served atop a Spanish-style rice with chorizo, Swiss chard and saffron. You can sear the lamb ahead of time but bring it back to room temperature before roasting.
1 butterfly lamb leg
1 tbsp (15 mL) chopped anchovies
2 tbsp (25 mL) chopped garlic
2 tsp (10 mL) lemon rind
2 tbsp (25 mL) lemon juice
1 tsp (5 mL) hot smoked
Spanish paprika
1⁄2 cup (125 mL) olive oil
1. Cut lamb into 6 even-sized chunks. Combine anchovies, garlic, lemon rind and juice, paprika and 1⁄3 cup (75 mL) olive oil. Brush over lamb and leave to marinate for 1 hour.

2. Preheat oven to 450°F (230°C).

3. Heat remaining 2 tbsp (25 mL) oil in a large skillet over high heat. Add lamb and sear on each side about 1 minute a side or until golden. Place lamb on a baking sheet and bake for 10 to 12 minutes or until still pink inside. Let rest for 5 minutes before slicing.
SHARE