Spanish Marinated Pork Chops with Poor Man's Potatoes & Mojo Verde
Summer 2014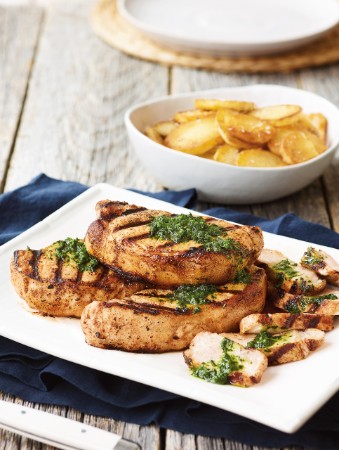 Spanish Marinated Pork Chops with Poor Man's Potatoes & Mojo Verde
Summer 2014
BY: Marilyn Bentz-Crowley
Purchase thick-cut loin chops from a butcher or a big box store such as Costco, as most supermarket offerings are too thin. Six chops can easily serve 8 people unless a very large meat portion is desired. This very simple version of traditional poor man's potatoes is sautéed in the flavourful oil from the marinade while the green sauce hails from the Canary Islands.
6 to 8 thick boneless pork loin chops, each about 1¼ to 1½ inches (3 to 4 cm) thick
⅓ cup (80 mL) very finely minced onion
2 bay leaves, finely crumbled
½ cup (125 mL) olive oil
1 tbsp (15 mL) Spanish paprika
2 large garlic cloves, minced
½ tsp (2 mL) salt
¼ tsp (1 mL) freshly ground black pepper
6 to 8 large baking potatoes
Pinches of coarse salt
Mojo Verde (recipe follows)
1 Place chops flat in a large dish or divide between 2 heavy plastic bags; sprinkle with onion mixed with bay leaf. Stir oil with paprika, garlic, salt and pepper. Pour over chops; distribute well. Cover or seal and marinate at least half a day or up to 2 days in refrigerator. (Pork chops in marinade can be frozen for up to a month. Defrost before barbecuing.)

2 Drain marinade; save to use for potatoes. Peel and slice potatoes ¼ inch (5 mm) thick; cover with water in a large pot. Bring to a boil; reduce heat to medium-high and gently boil for 7 to 10 minutes or until barely becoming tender. Meanwhile, strain solids from marinade; discard solids. Drain potatoes well.

3 Heat 2 tbsp (30 mL) of strained marinade in a very large frying pan (or divide between 2 pans) over medium heat until hot. Add potatoes; drizzle with another 2 tbsp (30 mL) of strained marinade. Gently toss potatoes to coat somewhat evenly, adding more marinade if needed. Sauté, turning occasionally, until potatoes are lightly browned and tender, about 20 to 25 minutes. Sprinkle pinches of salt overtop. Discard any remaining marinade.

4 When potatoes are just starting to be sautéed, preheat barbecue to medium-high heat.

5 Grill chops for 8 to 10 minutes a side or until an instant-read thermometer reads 145°F (63°C).

6 Serve chops diagonally sliced with Mojo Verde and potatoes.

MOJO VERDE

Place 2 cups (500 mL) of lightly packed parsley leaves in a blender jar with 1 large minced garlic clove and 1/4 cup (60 mL) each of olive oil and water. Add 1 tbsp (15 mL) white-wine vinegar, 1 tsp (5 mL) salt and 1/4 tsp (1 mL) freshly ground black pepper. Whirl, scraping down sides as needed, until a coarse emulsion forms. Cover and refrigerate up to half a day. When ready to use, thin with water if needed to achieve a thick yet spreadable sauce.
SHARE