Spanakopita Open-Face Tarts
Autumn 2014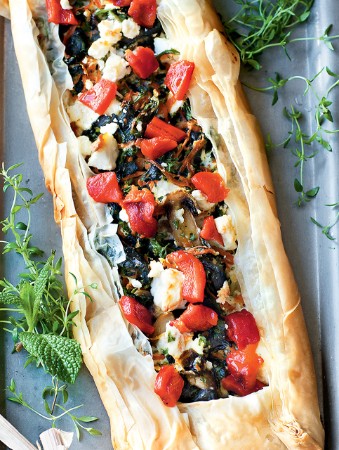 Spanakopita Open-Face Tarts
Autumn 2014
BY: Marilyn Bentz-Crowley
This recipe makes two long rectangular tarts that can be a light entrée or cut into wedges to serve as nibbles with drinks. The tarts arevege tarian and freeze well.
¼ lb (125 g) cremini or button mushrooms
2 medium carrots
1 tbsp (15 mL) olive oil
2 garlic cloves, minced
10 oz (300 g) pkg frozen spinach, defrosted
2 eggs
⅓ to ½ cup (80 to 125 mL) finely chopped parsley, preferably mixed with some other fresh herbs such as basil, mint and/or thyme
¼ tsp (1 mL) chili flakes
½ tsp (2 mL) salt
¼ tsp (1 mL) freshly grated nutmeg
Several grindings of black pepper
1 cup (250 mL) ricotta cheese, about 8 oz (250 g)
6 sheets phyllo pastry
2 tbsp (30 mL) each of melted butter and olive oil, mixed
4 oz (125 g) Greek feta cheese
1 small sweet red pepper, roasted
1 Thinly slice mushrooms—there should be about 2 cups (500 mL). Finely julienne or coarsely grate carrots.

2 Heat oil in a medium frying pan over medium heat until hot; add mushrooms, carrots and garlic. Sauté 5 to 6 minutes or until cooked and liquid from mushrooms is mostly gone.Cool.

3 Using hands, firmly squeeze spinach until dry; place in mixing bowl. Stir in eggs, fresh parsley, chili flakes, salt, nutmeg and black pepper; mix well. Add cooled mushroom mixture; stir until just incorporated. Barely mix in ricotta, leaving some white streaks. Set aside.

4 Preheat oven to 350°F (180°C).

5 Brush each phyllo sheet with butter mixture as you stack them; brush top, then flip and brush again. Using a sharp knife, cut stack lengthwise in half. Lay slightly apart on a baking sheet lined with parchment paper or coated with baking spray.

6 Evenly spread ricotta spinach mixture down centre of each phyllo strip leaving about a 1-inch (2.5-cm) border at edges. Lift short ends over filling, forming a 1-inch (2.5‑cm) border about filling (filling is exposed in centre). Repeat with long edges, pinching so corners are sharp.

7 Break feta into chunks. Evenly place feta here and there on exposed filling. Bake in oven centre for 35 minutes or until phyllo is golden (see TIP).

8 Meanwhile, peel and seed roasted pepper. Cut into long thin strips or dice.

9 When pastries come out of the oven, decoratively arrange roasted pepper over hot top of exposed filling. Cut each tart widthwise into 3 or 4 pieces for a light entrée or 4 to 6 pieces for appetizer or into 8 to 10 triangular pieces for a nibble with drinks. Serve hot or at room temperature.


TIP Baked tarts, supported by a small pan or piece of cardboard and tightly wrapped, freeze well for up to 2 weeks. To serve, place unwrapped, still-frozen tarts on a baking sheet in a preheated 350°F (180°C) oven for 20 to 25 minutes or until hot.
SHARE