Spaghettini with Fiddleheads and Shrimp
Début de l'été 2005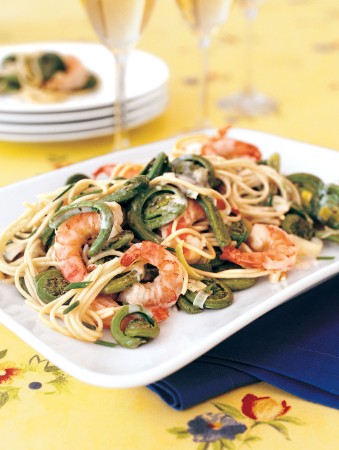 Spaghettini with Fiddleheads and Shrimp
Début de l'été 2005
BY: Jennifer MacKenzie
It's the simplicity of this dish of pasta, curly fiddlehead fronds and shrimp nestled in a light cream sauce that makes it impressive. If you have access to wild leeks, the flavour is great in combination with the fiddleheads, but cultivated leeks work just as well. Although not conventional with seafood pastas, freshly grated Parmesan cheese can be passed at the table as an optional topping.
4 cups (1 L) fiddleheads
12 oz (375 g) spaghettini or linguine
2 tbsp (25 mL) butter
1 cup (250 mL) sliced leeks, white and pale green parts
½ cup (125 mL) dry white wine
1 cup (250 mL) whipping cream
1 lb (500 g) shrimp, shelled
Salt and freshly ground pepper
2 tbsp (25 mL) chopped fresh chives or basil
1. Rub brown papery scales off of fiddleheads and rinse several times under cold running water. Drain well and trim off ends. Set aside. Bring a large pot of salted water to a boil. Add pasta and return to boil. Cook for 7 to 9 minutes or until pasta is al dente. Remove from heat and drain, reserving about 1 cup (250 mL) of the cooking liquid. Return pasta to pot.

2. Meanwhile, melt butter over medium-high heat in a large skillet. Add leeks and cook for 2 minutes, stirring often, until leeks are softened. Add fiddleheads and cook for about 3 minutes or until fiddleheads start to turn bright green. Pour in wine and scrape up any brown bits stuck to pan and boil until reduced by half.

3. Stir cream into pan and bring to boil. Boil gently until reduced slightly, about 2 minutes. Add shrimp and simmer, stirring, just until cooked through and fiddleheads are tender. Season with salt and pepper. Pour over drained pasta, toss gently and add enough of the reserved cooking liquid to thin as necessary. Serve sprinkled with chives.
SHARE