Spaghetti with Roasted Red Peppers, Arugula & Crispy Quinoa
Early Summer 2014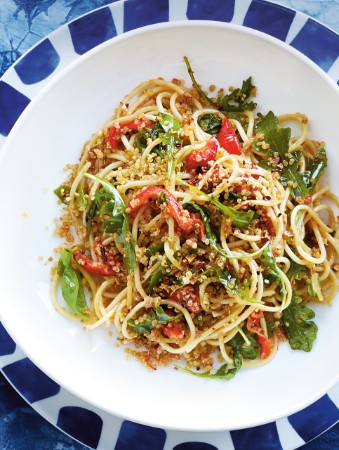 Spaghetti with Roasted Red Peppers, Arugula & Crispy Quinoa
Early Summer 2014
BY: Eshun Mott
If you like pasta with crispy bread crumbs or nuts, you'll love the crunch the fried quinoa adds to this dish.
⅓ cup (80 mL) quinoa
2 tbsp (30 mL) canola oil
1 lb (500 g) spaghetti
¼ cup (60 mL) olive oil
3 tbsp (45 mL) chopped garlic
½ tsp (2 mL) chili flakes
1½ cups (375 mL) thinly sliced roasted red peppers
4 cups (1 L) baby arugula
⅔ cups (150 mL) grated Parmesan cheese
Salt
¼ cup (60 mL) torn basil leaves
1 Bring a small pot of water to a boil. Add quinoa and boil for 8 minutes or until tender. Drain in a fine sieve and place over pot. Cover all with a towel and let stand for 5 minutes to steam and dry quinoa.

2 Heat canola oil in a large frying pan on medium heat. Add quinoa to the pan and fry, stirring, for 3 to 4 minutes or until it is browned and crisp. Scrape contents of pan onto a paper towel-lined plate. Wipe out pan.

3 Cook spaghetti in a large pot of salted water until al dente. Drain, reserving ½ cup (125 mL) pasta cooking water.

4 Add olive oil, garlic and chili flakes to pan and heat over medium-low heat for 2 minutes or until garlic is fragrant and lightly golden. Add red peppers and cook 1 minute longer or until heated through. Add arugula and cooked pasta and toss until arugula is wilted and pasta is coated in oil. Add Parmesan and toss to coat, adding a few tablespoons of pasta cooking water to loosen. Season with salt to taste, add basil and quinoa and toss one last time.
SHARE