Spaghetti with Braciola
Winter 2008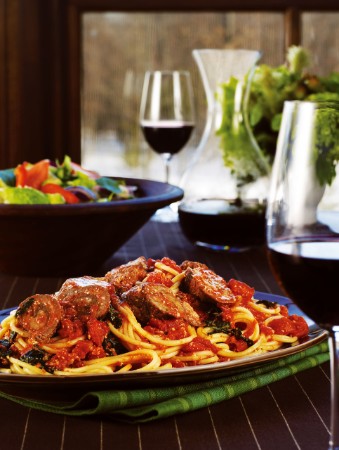 Spaghetti with Braciola
Winter 2008
BY: Marilyn Bentz-Crowley
Just like the children's ditty, this spaghetti is all covered with cheese, but the slim, stuffed beef rolls called braciola provide a delicious variation on meatballs. An Italian specialty, its precise specifications vary with every cook: this recipe comes from Aunt Rosamond, a renowned cook in our family.
Braciola
¼ lb (125 g) thinly sliced pancetta
1 tbsp (15 mL) olive oil
¼ cup (50 mL) pine nuts
1 large garlic clove, minced
3½ cups (875 mL) coarse fresh bread crumbs (see Tip)
½ cup (125 mL) freshly grated Parmesan cheese
½ cup (125 mL) freshly grated Romano cheese
¼ cup (50 mL) chopped fresh parsley
1 egg, lightly beaten
10 slices round steak, cut for roulade, about 2 lb (1 kg) in total

Sauce
3 to 4 tbsp (45 to 60 mL) olive oil
5 to 6 large garlic cloves, minced
Three 796 mL cans diced tomatoes
2 large bay leaves
1½ tsp (7 mL) dried leaf oregano
1½ tsp (7 mL) granulated sugar
¾ tsp (4 mL) salt
1 lb (500 g) spaghetti
½ cup (125 mL) chopped fresh basil
1/3 cup (75 mL) finely grated mixture of Romano and Parmesan cheeses
½ tsp (2 mL) freshly ground black pepper
1. Slice pancetta into ¼-inch-wide (5-mm) pieces. Heat oil in a frying pan over medium heat; when hot, add pancetta. Fry 5 minutes or until pancetta is browned and crisp. Stir in pine nuts and garlic; cook 2 minutes, stirring constantly, or until pine nuts begin to turn golden. Remove from heat; cool slightly in pan. Meanwhile mix crumbs with cheese and parsley in a large mixing bowl; stir in egg, then pancetta mixture.

2. Using a meat mallet, pound beef slices until larger in size and somewhat thinner. Leaving 1-inch (2.5-cm) uncovered on 1 long end, spread beef with filling; divide equally. Snugly roll up from covered sides. Tie with butchers twine at each end and in centre; tuck in any raggedy ends.

3. To make sauce, heat 1 tbsp (15 mL) oil in a large pot over medium-high heat. Brown beef rolls in batches, adding more oil as needed (beef is not fully cooked). Set rolls aside. Add garlic to pot; sauté 2 minutes or until fragrant. Add tomatoes including liquid, bay leaves, oregano, sugar and salt. Bring to a boil, stirring frequently. Add beef rolls and any juices.

4. Reduce heat, cover and simmer 30 minutes. Uncover and simmer a further 45 to 60 minutes or until sauce is thick. Remove bay leaves and discard. (If making ahead, cover and refrigerate for 2 to 3 days. Beef rolls and sauce can be frozen airtight for a month. Gently reheat rolls in sauce.)

5. Cook spaghetti according to package directions for al dente. Remove beef rolls from sauce; cut off strings. Diagonally slice rolls into 4 to 5 pieces. Stir basil, cheese and black pepper into sauce. Serve spaghetti tossed with sauce and topped with slices of braciola napped with more sauce. Pass additional grated cheese and remaining sauce. Serve with fresh Italian bread and a tossed green salad.

Tip:
To make bread crumbs: Place cut or torn French or Italian bread, including crusts, into food processor. Whirl until coarse bread crumbs form. Extra crumbs can be sealed and frozen airtight for use in meat loaf or meatballs.
SHARE