Spaghetti & Meatballs
Winter 2011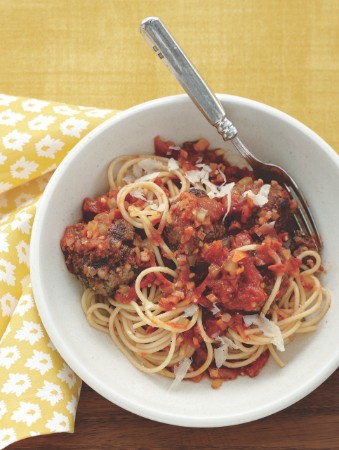 Spaghetti & Meatballs
Winter 2011
BY: Heather Trim
Don't let the long ingredient list for this delicious homey dish scare you off. Adding ground veal for ¼ lb (125 g) of the ground beef is an excellent substitution.
MEATBALLS
½ cup (125 mL) fresh bread crumbs
3 tbsp (45 mL) milk
¾ lb (375 g) ground beef
¼ lb (125 g) ground pork
1 small onion, finely chopped
1 garlic clove, minced
1 egg, lightly beaten
¼ cup (50 mL) each of finely chopped parsley
and freshly grated Parmesan cheese
½ tsp (2 mL) salt
Generous grinding of black pepper
⅓ cup (75 mL) dried unseasoned bread crumbs
Olive oil

TOMATO SAUCE
1 tbsp (15 mL) olive oil
3 slices pancetta, ¼ inch (5 mm) thick, finely diced
½ cup (125 mL) each finely diced celery, carrot and onion
3 garlic cloves, minced
1 cup (250 mL) white wine
2 cans (796-mL each) plum tomatoes
4 tsp (20 mL) dried Italian seasoning
2 bay leaves
½ tsp (2 mL) hot chili flakes
Generous pinches salt and black pepper
1 For meatballs, place breadcrumbs in a large bowl with milk. Let stand 5 minutes until milk soaks into crumbs. Squish together and discard any excess milk.

2 Add meats, onion, garlic, egg, parsley, Parmesan, salt and pepper to soggy bread crumbs. Mix gently making sure pork is evenly distributed. Form into 1½-inch (4-cm) meatballs.Place dried bread crumbs on a plate then roll meatballs in crumbs. Set on a baking sheet.

3 Coat a large frying pan with oil and set over medium heat. Add as many meatballs to pan as you can without crowding it. Turn gently until they're golden on all sides but not cooked through, about 5 minutes. Remove to another baking sheet. Repeat with remaining meatballs adding more oil if needed.

4 For sauce, meanwhile, in a large wide pot, heat oil over medium heat. Add pancetta, celery, carrot and onion. Stir occasionally until tender. Stir in garlic. Add wine. Simmer until mostly evaporated. Add tomatoes and seasonings. Using a potato masher, crush tomatoes into pieces. Simmer covered20 minutes.

5 Add meatballs to barely simmering tomato sauce. Cook, covered, stirring occasionally until meatballs are cooked through, about 15 more minutes. For a thicker sauce, uncover, stirring occasionally, simmering 5 more minutes. Best served over spaghetti with grated Parmesan on top.


SHARE