Soy Milk Soup with Toast Dumplings
Spring 2020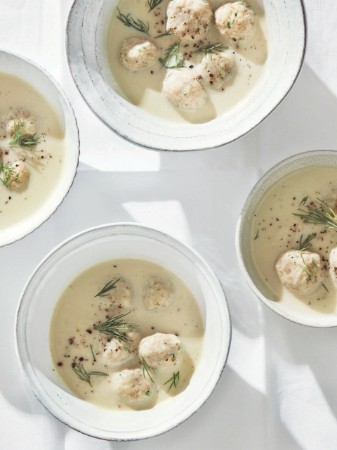 Soy Milk Soup with Toast Dumplings
Spring 2020
BY: Christopher St. Onge
Come springtime, I'm always anxious to empty out the crisper drawer to make room for fresher things. This soup is the perfect marriage of some of the vegetables lurking there and the season's first herbs. The recipe uses soy milk, your best bet for replacing cow milk in savoury recipes. Choose unsweetened soy milk without any added flavour—Natura brand's Organic Unsweetened Fortified Soy Beverage is widely available and neutral in flavour. You can use cow milk here instead, if you prefer. If a store-bought broth or stock is easier, use 1 cup (250 mL) stock and an equal amount of water in place of homemade.
3 tbsp (45 mL) butter
1 onion, chopped
3 leeks, white and light green part only, sliced
3 stalks celery, chopped
1 container (946 mL) unsweetened soy milk
2 cups (500 mL) chicken stock, preferably homemade
2 fresh bay leaves or 1 dried
Salt and freshly ground black pepper
DUMPLINGS
2 slices day-old French bread, 1 inch (2.5 cm) thick
½ cup (125 mL) all-purpose flour 1 tsp (5 mL) baking powder
1 tsp (5 mL) salt
¼ tsp (1 mL) freshly ground black pepper
3 tbsp (45 mL) finely chopped dill
2 tbsp (30 mL) finely chopped chives
1 ½ tsp (7 mL) finely grated lemon zest 1 clove garlic, finely grated
2 eggs, lightly beaten
3 tbsp (45 mL) unsalted butter, melted
1 Heat butter in a large pot over medium he Once foaming, add onion, leeks and celery. Cook for 5 to 6 minutes, stirring from time to time, or until onions are translucent and leeks are tender.
2 Pour the soy milk and chicken stock over, tuck in bay leaves, and season with salt and pepper. Bring to a boil (like cow milk, soy milk is prone to overboiling—keep a close eye on it), reduce heat to low to maintain a gentle simmer, cover and cook 30 min
3 Give everything a good stir, returning any accumulated solids from the side of the pot to the Remove and discard the bay leaves. Remove from heat. Using an immersion blender, purée.
4 Meanwhile, darkly toast the bread. If still moist in the centre, dry out further in a 200°F (100°C) oven for 15 min Break into small pieces and finely grind in a food processor. Measure out ½ cup (125 mL) and add to a bowl along with flour, baking powder, salt and pepper (if there are excess bread crumbs save for another use). Add the herbs, lemon zest and garlic. Whisk together. Add eggs and butter; stir to combine. Let stand a few minutes to  firm up.
5 Using 1 tbsp (15 mL) of the dough at a time, roll into a Repeat with remaining dough to make about 18 balls total.
6 Return soup to medium-low heat and bring to a Gently lower dumplings into soup and cook 8 to 10 minutes or until dumplings are puffed and cooked through. Serve right away.
SHARE