Southwestern Ham Salad with Nachos
Early Summer 2001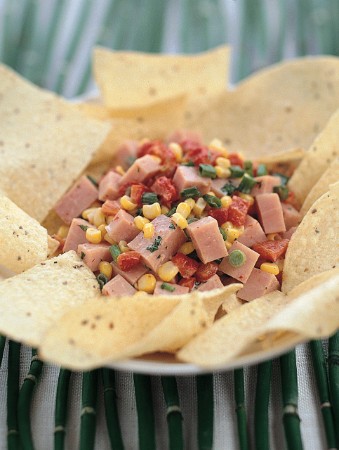 Southwestern Ham Salad with Nachos
Early Summer 2001
BY: Lucy Waverman
A spicy ham salad that also makes a terrific sandwich.
8 oz (250 g) smoked ham
1 roasted red pepper, diced
4 green onions chopped
1 cup (250 mL) frozen, defrosted or canned corn

Chilli Lime Mayonnaise:
1/4 cup (50 mL) mayonnaise
1 tsp (5 mL) chilli powder
2 tbsp (25 mL) fresh lime juice
2 tbsp (25 mL) chopped coriander
Salt and freshly ground pepper
2 cups (500 mL) nacho chips
1. Dice smoked ham. Place in a salad bowl and mix with peppers, onions and corn.

2. In a small bowl whisk together mayonnaise, chilli powder, lime juice and coriander. Season with salt and pepper.

3. Toss dressing with salad and garnish with nachos.
SHARE