Southwest Tortilla Bake
Early Summer 2003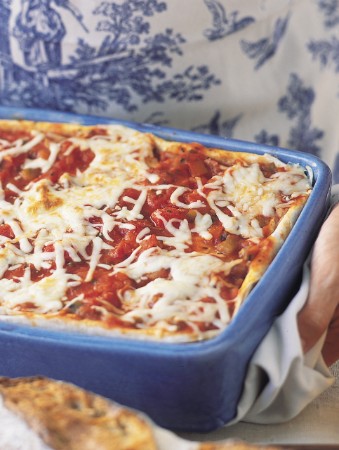 Southwest Tortilla Bake
Early Summer 2003
BY: Johanna Burkhard
From 300 Best Comfort Food Recipes, count on this layered rendition of enchiladas to deliver raves when you're expecting a hungry crowd. To make ahead, cover and refrigerate for up to 1 day or overwrap in heavy-duty foil and freeze for up to 1 month. Let thaw completely in refrigerator for up to 24 hours. Increase baking time by 15 minutes.
1 tbsp (15 mL) vegetable oil
1 large onion, chopped
3 cloves garlic, minced
2 large green bell peppers
2 tsp (10 mL) dried oregano leaves
2 tsp (10 mL) ground cumin
One 12 oz (340 mL) can corn kernels, drained
One 24 oz (650 mL) jar medium salsa
Two 19 oz (540 mL) cans black beans, drained and rinsed
2 tsp (10 mL) chili powder
One 8 oz (250 g) pkg cream cheese, softened
3/4 cup (175 mL) sour cream or yogurt
1/2 cup (125 mL) chopped fresh cilantro or parsley
7 large, 10-inch (25-cm) flour tortillas
2 cups (500 mL) shredded mozzarella cheese
1. In a large nonstick skillet, heat oil over medium heat; cook onion, garlic, peppers, oregano and cumin, stirring often, for 10 minutes or until vegetables are tender. Remove from heat; stir in corn and 1 1/2 cups (375 mL) salsa.
2. In a bowl, using a fork, mash beans with chili powder. In a separate bowl, blend cream cheese with sour cream; stir in cilantro.
3. Preheat oven to 350°F (180°C).
4. Arrange three flour tortillas in a greased 13 x 9-inch (3-L) baking dish, covering bottom and sides. Spread with half the bean mixture; layer with half the vegetable and cream cheese mixtures. Top with two tortillas, tucking in sides. Repeat layers. Top with remaining two tortillas; spread with remaining salsa. Sprinkle with cheese; cover loosely with foil.
5. Bake in oven for 30 minutes. Uncover and bake for 25 minutes longer or until filling is bubbly. Let stand 5 minutes before cutting.
SHARE