Southern-Style Pulled Pork Pies with Buttermilk-Chive Biscuits
Autumn 2011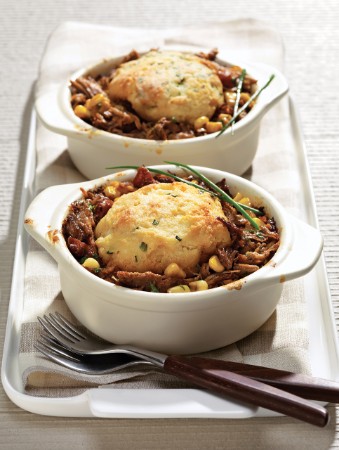 Southern-Style Pulled Pork Pies with Buttermilk-Chive Biscuits
Autumn 2011
BY: Julia Aitken
These rib-sticking pies feature tender pulled pork in a sweet-tangy barbecue sauce under a lid of fluffy chive-flecked biscuits. If your pork shoulder roast is labeled "seasoned," omit the salt from the recipe and only add it, if necessary, after tasting the cooked filling.
FILLING
2½ lbs (1.25 kg) boneless pork shoulder roast
Kosher salt and freshly ground black pepper
2 tbsp (30 mL) vegetable oil
1 large onion, thinly sliced
4 cloves garlic, minced
1 tbsp (15 mL) chili powder
2 tsp (10 mL) sweet smoked paprika
1 tsp (5 mL) ground cumin
¼ tsp (1 mL) cayenne
2 cups (500 mL) canned diced tomatoes
1 cup (250 mL) water
⅓ cup (80 mL) cider vinegar
⅓ cup (80 mL) molasses
2 tbsp (30 mL) Worcestershire sauce
2 cups (500 mL) frozen corn kernels, thawed and drained
¼ cup (60 mL) finely chopped parsley

BUTTERMILK BISCUITS
1 cup (250 mL) all-purpose flour
½ cup (125 mL) cornmeal
2 tsp (10 mL) granulated sugar
2 tsp (10 mL) baking powder
¼ tsp (1 mL) table salt
⅓ cup (80 mL) cold unsalted butter, cubed
¼ cup (60 mL) finely chopped chives
¾ cup (175 mL) buttermilk (shake carton well before measuring)
Additional buttermilk for glaze
1 For filling, preheat the oven to 325°F (160°C) and adjust oven rack to lower-middle position.

2 If pork is enclosed in a net bag, remove bag and tie pork with string to make a compact roast. Pat pork dry and season generously all over with salt and pepper. In a large Dutch oven, heat 1 tbsp (15 mL) oil over medium-high heat. Add pork to pot and cook for 10 to 12 minutes, turning often, until browned on all sides. Remove pork from pot and set aside on a large plate.

3 Add more oil to pot if necessary and reduce heat to medium. Add onion to pot and cook for 5 to 7 minutes, stirring often, until softened and golden brown. Add garlic, chili powder, paprika, cumin and cayenne and cook, stirring, for 30 seconds or until fragrant. Add tomatoes, water, vinegar, molasses and Worcestershire sauce to pot. Bring to a boil over medium-high heat, stirring to scrape up any browned bits from bottom of pot. Return pork to pot, along with any juices that have accumulated on plate. Cover pot tightly and transfer to oven. Cook for 30 minutes.

4 Reduce temperature to 300°F (150°C) and cook for 1 hour more. Turn pork over and cook for a further 1½ hours or until pork is very tender.

5 When pork is ready, remove from the pot and set aside on a large cutting board. Tent loosely with foil and let rest for 15 minutes.

6 With a large spoon, skim any fat from sauce in pot. Boil sauce over medium-high heat for 10 to 15 minutes, stirring occasionally, until it has reduced to about 2 cups (500 mL).Remove from the heat.

7 Snip strings on pork and remove. With 2 forks, shred pork finely, discarding any visible fat. In a large bowl, stir together pork, corn, parsley and reduced sauce. Season with more salt and pepper if necessary. Divide pork mixture among six 2-cup (500-mL) individual baking dishes. If you're not completing the pies immediately, cover and refrigerate them until ready to proceed, removing them from the refrigerator about 30 minutes before adding the biscuits.

8 For buttermilk biscuits, preheat the oven to 425°F (220°C).

9 Put flour, cornmeal, sugar, baking powder and salt in a food processor. Pulse once or twice until combined. Add butter and pulse about 10 times or until mixture resembles coarse crumbs. Tip flour mixture into a medium bowl and stir in chives. Add buttermilk and mix lightly with a fork just until dough holds together and no dry spots remain.

10 Turn dough onto a lightly floured surface and knead lightly. Divide dough into 6 even-size balls. Flatten each ball to ½-inch (1-cm) thickness and put 1 on top of each pie. Brush biscuits with additional buttermilk. Put dishes on large baking sheet. Bake for 20 to 25 minutes or until biscuits have risen well and are golden brown and pork mixture is bubbling.
SHARE