Southern-Style Crispy Baked Chicken & Cheddar Herb Waffles
Printemps 2014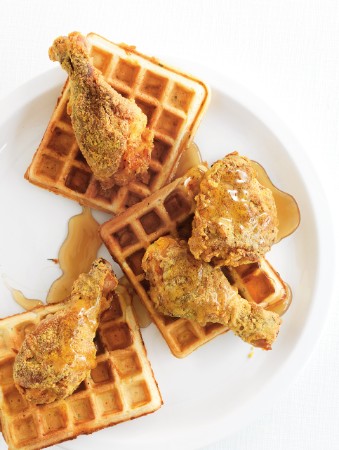 Southern-Style Crispy Baked Chicken & Cheddar Herb Waffles
Printemps 2014
BY: Jennifer MacKenzie
From fast food to fine dining, fried chicken has made a comeback, big time! What's not to love about a seasoned, crispy coating on moist, tender, spiced-buttermilk-marinated chicken? This version has the traditional characteristics we all adore but without the deep frying, making it easier to cook and a little healthier, too. The oven-baking even seems to make the chicken flavour shine through better. Serve it with the Cheddar Herb Waffles and hot maple syrup with the zing of hot pepper and your guests will thoroughly enjoy your Southern hospitality. Serve a savoury watermelon salad on the side for the full effect.
CHICKEN
2 cups (500 mL) buttermilk
2 bay leaves
1 tbsp (15 mL) sweet paprika
2 tsp (10 mL) dry mustard
1 tsp (5 mL) celery seeds
2 tsp (10 mL) hot pepper sauce
8 bone-in chicken breasts or 16 thighs and/or drumsticks (skin removed if desired)
1 tbsp (15 mL) butter, softened
1 cup (250 mL) all-purpose flour
1 cup (250 mL) cornmeal
1 tsp (5 mL) salt
½ tsp (2 mL) pepper

Cheddar Herb Waffles (recipe follows)
1 cup (250 mL) pure maple syrup
Hot pepper sauce
1 For the chicken, combine buttermilk, bay leaves, paprika, mustard, celery seeds and hot pepper sauce in a large non-reactive bowl. Add chicken and turn to coat. Cover and refrigerate for at least 6 hours or for up to 24 hours, stirring occasionally.

2 Preheat oven to 425°F (220°C). Spread butter over a large rimmed baking sheet.

3 Combine flour, cornmeal, salt and pepper in a shallow dish.

4 Lift each piece of chicken from marinade, letting excess drip off (but do not shake). Dip in flour mixture, turning to coat evenly and pressing to help coating stick. Place meaty-side down on buttered baking sheet. Discard excess marinade and flour mixture.

5 Bake for 15 minutes, until golden on the bottom. Flip chicken pieces over and reduce oven temperature to 375°F (190°C). Bake chicken for about 10 to 15 minutes longer or until coating is crispy and a meat thermometer in the thickest part of the meat reads 170°F (77°C). Prepare the waffles while chicken is baking, or reheat in the oven if prepared earlier.

6 Heat syrup and 1 tsp (5 mL) hot pepper sauce in a small saucepan over medium heat until steaming. Taste and add more hot pepper sauce if desired.

7 Serve hot chicken with waffles and hot syrup mixture on the side for drizzling or dipping.

CHEDDAR HERB WAFFLES

Crispy on the outside, yet fluffy in the middle, these waffles with a punch of cheddar cheese and fresh herbs are a classic accompaniment for the Southern-style Crispy Baked Chicken. They're best cooked just before serving, but to make things easier for entertaining, you can cook them a few hours ahead, let them cool on a wire rack and then store in a sealable plastic bag at room temperature. Just before serving, reheat on the rack set over a baking sheet in the oven with the chicken at 375°F (190°C) for 5 to 10 minutes.

1⅓ cups (330 mL) all-purpose flour
⅓ cup (80 mL) cornmeal
2 tsp (10 mL) granulated sugar
1½ tsp (7 mL) baking powder
½ tsp (2 mL) baking soda
Salt
¼ tsp (1 mL) freshly ground pepper
4 eggs, separated, whites at room temperature
1¼ cups (310 mL) buttermilk
1 tbsp (15 mL) chopped fresh chives or basil
½ tsp (2 mL) chopped fresh thyme
1 cup (250 mL) shredded extra-old cheddar cheese
Vegetable oil cooking spray or vegetable oil
1 Preheat waffle iron according to manufacturer's instructions. Place a wire rack on a baking sheet. Preheat oven to 375°F (190°C), if you'll need to keep waffles warm.

2 Whisk together flour, cornmeal, sugar, baking powder, baking soda, ½ tsp (2 mL) salt and the pepper in a large bowl. Whisk together egg yolks, buttermilk, chives and thyme. Stir in cheese. Pour over flour mixture and stir just until moistened.

3 Beat egg whites and a pinch of salt in another bowl until stiff peaks form. Fold one-quarter of the whites into batter until blended. Gently fold in remaining whites just until no white streaks are visible.

4 Spray or brush waffle iron lightly with oil. Scoop batter into waffle iron. Cook for 3 to 4 minutes, or according to manufacturer's
instructions, until waffle is golden and crisp. Place cooked waffles on rack on baking sheet and keep warm in oven while cooking remaining waffles. Serve hot.
SHARE