Wild Mushroom Bisque with Truffle Oil
Holiday 2007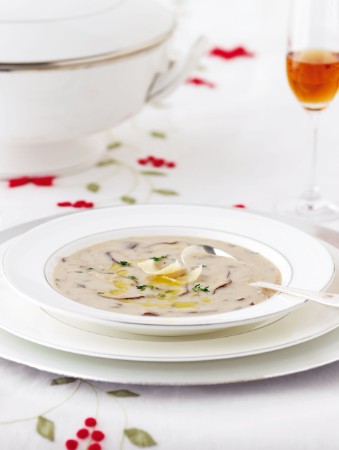 Wild Mushroom Bisque with Truffle Oil
Holiday 2007
BY: Heather Trim
Turn a well made storebought soup into a family dinner tradition by adding fresh shiitakes, truffle oil and curls of Parmesan. Small bottles of truffle oil are available at high end grocery and specialty stores or Italian supermarkets.
¼ lb (125 g) shiitake mushrooms
3 tbsp (45 mL) fresh thyme leaves
1 tbsp (15 mL) each butter and olive oil
2 tbsp (25 mL) minced shallots
2 garlic cloves, minced
1 cup (250 mL) chicken broth
Two 500 mL cartons mushroom soup or two 540-mL ready-to-serve cans mushroom soup
White truffle oil for drizzling
Parmesan curls for garnish
1. Discard stems from mushrooms, then thinly slice caps. Finely chop 2 tbsp (25 mL) thyme leaves. Heat butter and oil in a large wide saucepan over high heat. When hot, add mushrooms and shallots, stirring until tender, about 3 minutes. Stir in garlic, chicken broth, 2 tbsp (25 mL) finely chopped thyme leaves and mushroom soup. Bring to a boil, reduce heat and simmer covered 10 minutes to blend flavours.

2. Ladle into soup bowls. Drizzle with truffle oil. Garnish with a Parmesan curl and sprinkle with remaining thyme leaves.
SHARE