Wild Mushroom and Barley Soup
Winter 2005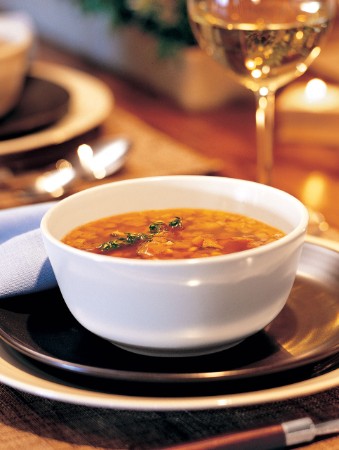 Wild Mushroom and Barley Soup
Winter 2005
BY: Jennifer MacKenzie
Start the meal with a light but warming bowl of soup. It can be made a day ahead, cooled, covered and refrigerated, then reheated just before serving. Pot barley can be substituted for the pearl but it will take longer to cook since it is less polished. Use a homemade or good-quality prepared beef stock for the best flavour. If you prefer a lighter soup, use chicken or vegetable stock instead. Dried thyme can be substituted if you don't have fresh: just add ½ tsp (2 mL) dried with the celery and carrots to bring out the flavour.
4 cups (1 L) water
1 oz (30 g) mixed dried mushrooms (porcini, morels, shiitake, oyster)
2 tbsp (25 mL) butter
1 onion, finely diced
1 stalk celery, finely diced
1 carrot, finely diced
¼ cup (50 mL) dry sherry
2 cups (500 mL) beef, chicken or vegetable stock
¼ cup (50 mL) pearl barley
2 tsp (10 mL) chopped fresh thyme
Salt and freshly ground pepper
1. Heat water to steaming and stir in mushrooms. Cover and let stand for at least 20 minutes or until soft. Strain through a paper towel, reserving broth and mushrooms. Rinse mushrooms to remove any grit, and pat dry. Chop finely and set aside.

2. Melt butter over medium heat in a large pot. Cook onion, stirring, for 2 minutes. Reduce heat to low and cook, stirring often, for about 15 minutes or until caramelized. Stir in celery and carrot. Cook, stirring often, for about 5 minutes or until almost tender. Add mushrooms and cook for 2 minutes. Add sherry and stir to scrape up any brown bits stuck to pan. Cook until almost evaporated.

3. Stir in reserved mushroom broth, stock and barley and bring to boil. Simmer, covered, for about 30 minutes or until barley is almost tender. Stir in thyme and season with salt and pepper. Simmer for 5 to 10 minutes longer or until barley is tender. Ladle into warmed bowls.
SHARE