Smoked Turkey, Cabbage & Dumpling Soup
Holiday 2017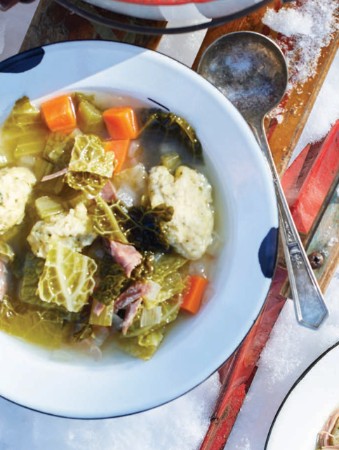 Smoked Turkey, Cabbage & Dumpling Soup
Holiday 2017
BY: Tonia Wilson-Vuksanovic
Feel free to make the soup up to five days in advance, but if possible add the semolina dumplings just before serving—it will help them to retain their shape. Then again, no worries! It's delicious either way.
1 smoked turkey drumstick, about 1½ lbs (750 g)
16 cups (4 L) water
2 tbsp (30 mL) vegetable oil
2 cups (500 mL) onions, diced
1 cup (250 mL) carrots, diced
1 cup (250 mL) celery, diced
8 cups (2 L) Savoy cabbage, core and ribs removed, coarsely chopped

DUMPLINGS
2 large eggs
1 tbsp (15 mL) vegetable oil
Salt to taste
1 tbsp (15 mL) fresh tarragon or parsley, finely chopped
½ cup (125 mL) semolina (or Cream of Wheat)
¼ tsp (1 mL) baking powder
1. In a large pot, add turkey drumstick and water. Over high heat, bring to a boil, cover and reduce heat to a gentle simmer. Simmer for 2½ hours.

2. In a second large pot, heat oil over medium-high heat and cook onions, carrots and celery for 10 minutes. Add cabbage and cook for another 5 minutes. Set aside.

3. When drumstick has finished simmering, remove from liquid and set aside until cool enough to handle. Continue to simmer liquid over low heat for an additional 20 minutes.

4. Pull the meat off the turkey bone and coarsely chop; it should yield about 2½ cups (625 mL) chopped turkey.

5. Place the turkey stock, turkey and sautéed vegetables in the larger of the 2 pots. Cover and simmer for 30 minutes. If not using right away, cool and refrigerate.

6. For the dumplings, in a medium bowl, whisk together the eggs, oil, salt and tarragon with a fork. Add semolina and baking powder and continue to stir until smooth.

7. Bring the soup to a gentle simmer. Using a teaspoon, drop spoonfuls of dumpling batter into the soup; dumplings will triple in size as they cook. Gently stir the soup once all the batter is added, making sure the dumplings have all cooked, about 3 minutes. Season soup if needed, and serve warm.
Makes about (16 cups) 4 L
SHARE