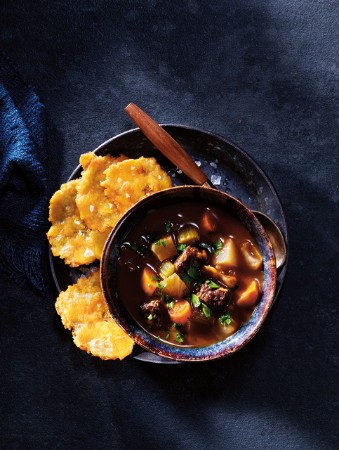 BY: Victoria Walsh
This Haitian soup-meets-stew is usually enjoyed on January 1 for Haitian Independence Day. It's a celebration soup that boasts lots of robust flavour and heartiness. This version is inspired by the classic recipe but skips the traditional addition of noodles.
1 lb (500 g) cubed stewing beef
1 lime or lemon
¼ tsp (1 mL) each coarse salt and pepper
2 tbsp (30 mL) vegetable oil
4 cups (1 L) water
11 to 12 cups (2.75 to 3 L) beef broth
3 celery stalks
3 shallots
2 carrots, peeled
2 turnips, peeled
1 potato, peeled
¼ small green cabbage
1 Scotch bonnet pepper, cut in half
3 to 3¼ cups (750 to 810 mL) homemade or store-bought pumpkin or butternut squash purée
⅛ tsp (0.5 mL) ground cloves
⅛ tsp (0.5 mL) freshly ground nutmeg
½ cup (125 mL) chopped fresh flat-leaf parsley
1. Pat beef dry with paper towels. Squeeze 1 tbsp (15 mL) juice from lime over meat in a medium bowl. Sprinkle with salt and pepper. Toss to evenly coat. Loosely cover and refrigerate for 1 hour.

2. When meat is ready, pat dry with paper towels. Coat a large deep pot with oil. Brown beef for 5 minutes until golden. You may need to cook in batches. Pour in a little water. Using a wooden spoon, scrape up and stir in any brown bits. Add remaining water and 4 cups (1 L) broth. Bring to a boil. Adjust heat so broth is simmering. Cook for 1 hour until meat is tender.

3. Meanwhile, coarsely chop vegetables.

4. When beef is tender, pour in remaining broth. Bring to a boil over medium-high. Add chopped vegetables and hot pepper. Cook for 20 to 25 minutes until vegetables are fork-tender. Remove pepper halves when spicy heat is to your liking.

5. When vegetables are fork-tender, add purée and spices. Reduce heat and gently simmer for 10 more minutes allowing flavours to meld. Taste and add more cloves and nutmeg, if you wish. Serve soup garnished with parsley.


Makes 14 cups (3.5 L) for 8 servings
SHARE