Sorrell and Chive Soup with Chive Oil
Spring 2004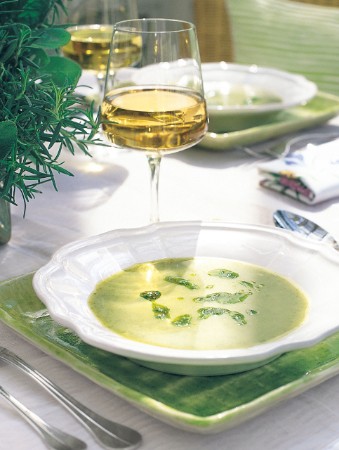 Sorrell and Chive Soup with Chive Oil
Spring 2004
BY: Lucy Waverman
Sorrel is an herb that looks similar to spinach but has a finer texture and a tart lemony flavour. It is bought in bunches or can be grown easily in the garden where it's always the first herb to show its leaves, usually in the middle of April. It is treated as a vegetable unless you use it for medicinal purposes. A quick boil is all you need, since sorrel cooks very quickly, changing colour to a kind of faded green though the taste stays the same. If it is unavailable use sliced spinach with lots of extra lemon juice.
1 tbsp (15 mL) olive oil
1/2 cup (125 mL) peeled cubed Yukon Gold potatoes
1 cup (250 mL) chopped leeks, white and pale green parts    
4 cups (1 L) chicken stock
3 cups (750 mL) torn sorrel
1/2 cup (125 mL) chopped fresh chives
Salt and freshly ground pepper
1 tbsp (15 mL) Lemon juice
1. Heat oil in pot over medium heat. Add potato and leeks and sauté for 2 minutes or until potato and leeks soften slightly. Add chicken stock, bring to boil, reduce heat to medium-low and simmer uncovered for 10 to 12 minutes or until potatoes are softened.
2. Add sorrel and chives and simmer gently for 4 minutes or until sorrel has dissolved.
3. With a hand blender or in the food processor, process soup until smooth. Return to heat, season to taste and add lemon juice.

Chive Oil
1/2 cup (125 mL) chives
1/2 cup (125 mL) olive oil
1/4 cup (50 mL) chopped green onions, green part only
Pinch salt
1. Bring a pot of water to boil. Add chives and bring back to boil. Immediately drain and rinse with cold water until cold. Dry thoroughly with paper towels.
2. Combine oil, chives, green onions and salt in blender and blend until smooth. The oil will keep refrigerated for a month. Use to garnish plates, soups, fish and poultry dishes.
Yields about 1/2 cup (125 mL)
SHARE