Soba Noodles with Diced Tomatoes & Green Onions
Hiver 2010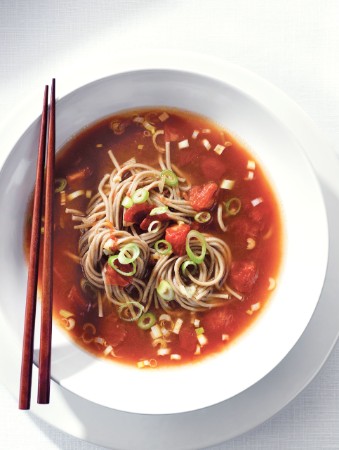 Soba Noodles with Diced Tomatoes & Green Onions
Hiver 2010
BY: Nettie Cronish
Soba is made either of all buckwheat flour or a mixture of buckwheat and wheat flours. If this is your first time eating soba noodles, try some made from a blend. One hundred percent buckwheat noodles have a heavier, dense texture. Noodles are long, thin and flat. When cooked, they should be rinsed in a colander under warm water to rinse away starch. My favourite Canadian brand is made by Sobaya, a Quebec-based noodle company. Mirin is a lightly sweetened Japanese rice cooking wine sold beside soy sauce in supermarkets and health food stores.
4 medium green onions
1 tbsp (15 mL) extra virgin olive oil
1 can (398 mL) organic diced tomato
¼ cup (50 mL) organic soy sauce
⅓ cup (75 mL) mirin
1 tbsp (15 mL) granulated sugar
4 cups (1 L) vegetable stock (recipe below)
8 oz (250 g) soba noodles
1. Mince white parts of green onions; coarsely chop green parts. Set green parts aside. Heat oil in large saucepan over medium heat. Add tomatoes and onion white parts.

2. Add soy sauce, mirin and sugar. Cook for 2 minutes, stirring. Add stock. Bring to a boil. Reduce heat to simmer for 10 minutes, covered.

3. Bring 8 cups (2 L) of water to a boil in a large pot. Add soba noodles, boil for 6 to 8 minutes or according to package instructions, uncovered.Drain and rinse under warm water.

4. Divide the noodles among 4 bowls. Pour tomato broth over each bowl of soba noodles. Garnish with remaining green onions.
SHARE