Smooth Golden Dahl with Cucumber & Radish
Early Summer 2018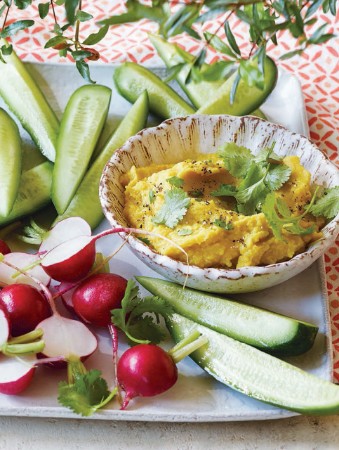 Smooth Golden Dahl with Cucumber & Radish
Early Summer 2018
BY: Donna Borooah
Mellow ginger and turmeric are classic flavourings in red lentil dahl. Raw garlic adds brightness to this dish. This spread is delicious warm but if making ahead, refrigerate up to 1 day then add warm water to loosen. Season again with salt and pepper to taste.
1. Rinse lentils and place in heavy pot with 1 cup (250 mL) water, ginger and turmeric. Bring to a boil then reduce heat to low, cover and cook until tender, about 15 minutes.

2. Transfer lentil mixture, remaining ¼ cup (60 mL) water and garlic to a food processor or blender. Blend until very smooth. Season to taste with salt and pepper. Transfer smooth dahl to a serving dish.

3. Garnish with cilantro and serve warm or at room temperature with cucumbers and radishes.
Makes about 2 cups (500 mL); serves 4
SHARE