Smooth Chicken Liver Paté
Temps des Fêtes 2014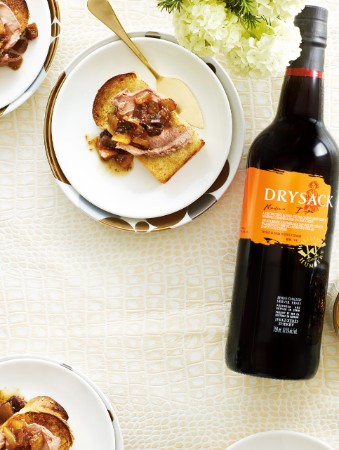 Smooth Chicken Liver Paté
Temps des Fêtes 2014
BY: Lucy Waverman
Microwave a little of the raw mixture before baking, to taste for seasoning. Under-salted paté tastes bland. Typically these patés a reserved with a sweetened confit of some sort. We upped the ante using the licorice-tasting fennel and figs. Serve a little dab with each slice. If the paté starts to look bubbly on the outside, whip it out of the oven. You do not want to over-bake it.
½ cup (125 mL) dry sherry
⅔ cup (150 mL) minced shallots
10 sprigs of thyme
1 lb (500 g) chicken livers, cleaned
1 star anise
3 eggs
1½ cups (375 mL) unsalted butter, melted
Salt and freshly ground pepper
1 Preheat oven to 325°F (160°C). Grease a standard loaf pan and line the base with parchment paper.

2 Combine sherry, shallots and thyme in a pot over medium heat. Simmer until liquid has almost evaporated. Set aside to cool. Discard thyme.

3 Combine liver, star anise and eggs with the reduced shallot-wine mixture and purée in a blender. Slowly pour in butter while puréeing and blend until smooth and velvety in texture. Season with salt and pepper to taste.

4 Pour mixture into prepared pan and cover with foil. Place the dish in a larger baking dish and pour boiling water halfway up the sides of the loaf pan to form a hot water bath.

5 Bake for 40 minutes or until firm and custard-like. The centre should still be slightly pink.

6 Cool paté overnight in fridge. Turn out onto a board. Serve with toasts and Fennel & Fig Confit (recipe follows).

FENNEL & FIG CONFIT
This confit, with its sweet, slightly licorice-like taste, matches the paté very well.

1 small head of fennel (about 2 cups [500 mL], chopped)
3 tbsp (45 mL) olive oil
2 tbsp (30 mL) granulated sugar
2 tbsp (30 mL) coarsely chopped preserved lemon
6 dried figs, chopped
6 pitted prunes, chopped
Pinch chili flakes
¼ cup (60 mL) sweet sherry
2 tbsp (30 mL) balsamic vinegar
2 tbsp (30 mL) water
Salt and freshly ground pepper
1 Preheat oven to 375°F (190°C).

2 Remove fronds from fennel and reserve. Cut out core and coarsely chop fennel.

3 Heat oil in ovenproof skillet over medium-high heat. Add fennel and sugar and sauté for 2 minutes or until beginning to brown. Add preserved lemon, dried figs, prunes and chili flakes. Stir in sherry, balsamic and water. Season with salt and pepper.

4 Cover pan and place in oven. Bake for 30 to 40 minutes or until mixture is rich and soft. Let cool to room temperature.
5 Refrigerate until needed. Pack into a crock or serving dish and serve with the paté.
SHARE