Smoky Squash Bisque
Autumn 2004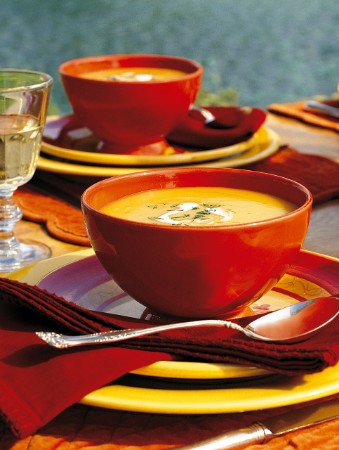 Smoky Squash Bisque
Autumn 2004
BY: Marilyn Bentz-Crowley
Chipotle chilies are dried smoked jalapeño peppers. Using just one adds smoky flavour and a hint of spicy heat to this dark, rich soup. For more pronounced spice, use a chipotle pepper packed in adobo sauce.
2 to 3 lbs (1 to 1.5 kg) orange squash such as butternut,
turban or hubbard
1 tbsp (15 mL) butter, melted
4 large cloves garlic, cut in half
1 onion, sliced
1 large carrot, sliced
1 stalk celery, sliced
4 cups (1 L) chicken stock or broth
1 chipotle chili, dried or packed in adobo sauce
1 to 2 chopped fresh sage leaves or ½ tsp (2 mL) dried
½ tsp (2 mL) salt
1 tbsp (15 mL) freshly squeezed lemon juice
½ cup (125 mL) whipping cream
Fresh coriander
1. Peel, seed and cube squash. (Tip: Pierce into squash's hollow area with a knife or skewer; remove skewer, then microwave the whole squash for 4 to 5 minutes to soften skin. Then peel and seed.)

2. Heat butter in a large saucepan over medium heat. Add garlic; sauté 3 minutes or until garlic is lightly browned on both sides. Add onion, carrot and celery; cook 5 minutes, stirring occasionally. Add squash, stock and chipotle chili. Bring to a boil; reduce heat and partially cover. Simmer 20 to 25 minutes, stirring occasionally, or until vegetables are soft. Add sage and salt; simmer 5 more minutes. Stir in lemon juice.

3. Purée in batches in a blender or food processor. Taste and if needed, add more salt. (Soup can be covered and refrigerated for up to 3 days.) When ready to serve, heat soup until hot. Ladle into bowls; top each serving with a drizzle of whipping cream. Garnish with a sprinkling of chopped coriander.
SHARE