Smoky Roast Pork Loin with Honey Glaze
Automne 2018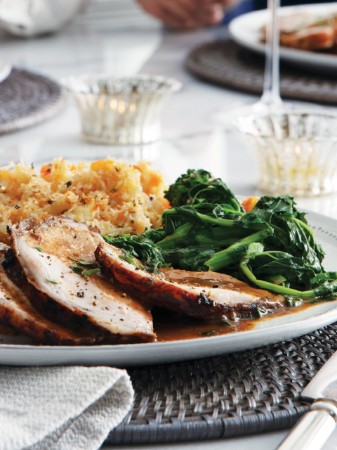 Smoky Roast Pork Loin with Honey Glaze
Automne 2018
BY: Julia Aitken
Smokiness, heat and a touch of sweetness combine in this juicy pork roast. A double pork loin roast consists of two pieces of loin tied into a neat roast with string. If your nonstick skillet doesn't have an ovenproof handle, wrap the handle tightly in a double layer of foil.
1 large orange
8 cups (2 L) cold water
½ cup (125 mL) granulated sugar
½ cup (125 mL) kosher salt
2 bushy stalks thyme
2 bay leaves
1 boneless centre-cut double pork loin roast, about 3 lbs (1.36 kg)
2 tbsp (30 mL) olive oil, divided
1 shallot, finely chopped
1 clove garlic, minced
1 tsp (5 mL) smoked paprika
1 tbsp (15 mL) finely chopped thyme leaves
1 tsp (5 mL) minced drained canned chipotle chili in adobo sauce
Kitchen string
¼ cup (60 mL) liquid honey
2 cups (500 mL) low-sodium chicken stock
¼ cup (60 mL) whipping cream
Kosher salt and freshly ground black pepper to taste
Thyme sprigs for garnish
1. With a small, sharp knife, pare two 2-inch (5‑cm) strips of orange rind from orange, avoiding white pith. Set orange aside.

2. In a large bowl or Dutch oven, whisk together water, sugar, salt, thyme stalks, bay leaves and strips of orange rind, until sugar and salt dissolve.

3. Snip strings tying pork together and separate the 2 halves of roast. Add both pieces of pork to bowl, making sure they are submerged (if not, add more water). Cover and set aside at room temperature for 1 hour.

4. Meanwhile, grate remaining orange zest from orange into a small bowl. Squeeze juice from orange into a separate small bowl and set aside.

5. In a large ovenproof nonstick skillet, heat 1 tbsp (15 mL) oil over medium heat. Add shallot and cook, stirring, until shallot is softened but not browned, about 3 minutes.

6. Stir in garlic and smoked paprika. Cook, stirring, until fragrant, about 30 seconds. Remove skillet from heat and scrape shallot mixture into a small bowl. Wipe out skillet and set aside but do not wash.

7. Stir reserved grated orange zest, chopped thyme and chipotle into shallot mixture. Let cool completely.

8. Adjust oven rack to middle position and preheat oven to 325°F (160°C).

9. Drain and rinse pork, discarding liquid and flavourings. Spread half of shallot mixture over flat side of one-half of pork. Place other half of pork on top to reassemble roast and tie tightly in several places with kitchen string. Pat pork roast dry with paper towels.

10. In same skillet, heat remaining oil over medium-high heat. Add pork and brown on all sides, including both ends, 12 to 18 minutes. Remove skillet from heat. Remove pork to a plate and let cool slightly. Discard any fat in skillet and wipe out any burned bits.

11. Spread remaining shallot mixture over top and both ends of pork. Return pork to skillet and transfer skillet to oven. Roast, uncovered, for 45 minutes.

12. Meanwhile, whisk together honey and 2 tbsp (30 mL) of reserved orange juice. When pork has roasted 45 minutes, drizzle half of honey mixture over pork. Roast for 10 minutes.

13. Drizzle remaining honey mixture over pork and roast until a meat thermometer inserted in centre of pork registers 135°F (57°C) to 140°F (60°C), 10 to 15 minutes.

14. Wearing oven mitts to lift skillet, remove it from oven and transfer pork to a cutting board. Cover pork with foil and a clean bath towel. Let rest for at least 15 or up to 30 minutes.

15. While pork rests, still wearing oven mitts, place skillet over burner. Add chicken stock and remaining orange juice to skillet and bring to a boil over high heat, stirring to scrape up any browned bits from bottom of skillet. Continue to boil, stirring often, until liquid has reduced and thickened slightly, 3 to 5 minutes.

16. Add cream and simmer until sauce has thickened slightly, 2 to 3 minutes. Taste and add salt and pepper if necessary. Strain sauce into a pitcher.

17. Cut pork into slices and arrange on a serving platter. Drizzle some of sauce over pork, then garnish with thyme sprigs. Serve remaining sauce alongside pork.
SHARE