Smoky Ramp & Clam Spaghetti
Spring 2017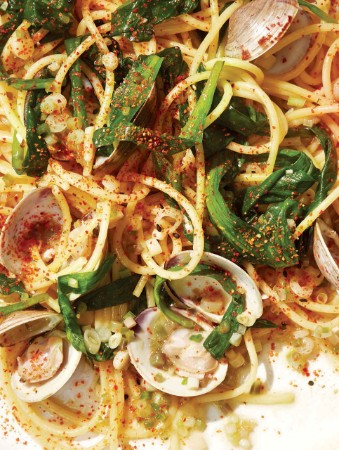 Smoky Ramp & Clam Spaghetti
Spring 2017
BY: Christopher St. Onge
This fresh take on an Italian classic makes use of dashi, a simple Japanese stock you've probably already tried in miso soup. You'll need to visit an Asian grocer for the kombu (a dried seaweed) and the bonito flakes (a species of tuna that's smoked, dried and shaved), but the stock itself, which can be prepared a couple of days in advance, is very easy to make. Shichimi togarashi, a delectable table seasoning containing chilies and dried orange peel, hails from Japan too and is worth picking up along the way.
4 cups (1 L) water
1 piece kombu, 1 oz (30 g) about 4 x 8 inches (10 x 20 cm)
2 oz (60 g) bonito flakes, about 5 cups (1.25 L)
Salt
18 ramps, cleaned and trimmed
½ cup (125 mL) olive oil
½ cup (125 mL) dry white wine
3 lbs (1.5 kg) littleneck or other small clams, scrubbed
1 lb (500 g) spaghetti
2 tbsp (30 mL) butter
Shichimi togarashi or chili flakes to serve
1. Bring water to a boil in a medium pot; remove from heat. Immerse kombu in water and let stand for 5 minutes; remove seaweed with a slotted spoon and discard. Return pot to heat, sprinkle bonito over (do not stir), and once again bring to a boil; remove from heat and steep for 10 minutes. Strain dashi through a fine mesh sieve into a clean bowl, pressing on bonito with a spatula to extract as much water as possible; discard solids.

2. Half-fill a large pot with water; measure out 1 cup (250 mL) of the dashi and set aside. Add remaining dashi to water in pot. Season with salt and bring to a boil.

3. Meanwhile, separate the white bulbs from the ramps and thinly slice; set greens aside.

4. Heat oil in a large skillet over medium heat; fry sliced ramp bulbs for 1 minute. Pour in wine and reserved dashi; bring to a boil and reduce by half, about 5 minutes. Add clams, increase heat to high, cover and cook until clams have opened, 3 to 5 minutes, depending on size; discard any unopened clams. Remove clams to a bowl with a slotted spoon or tongs; loosely cover to keep warm.

5. Cook pasta in boiling water-dashi mixture until al dente, about 1 minute short of time specified on package; drain and add to skillet along with reserved ramp greens. Return skillet to high heat, add butter, and toss pasta in sauce until thickened and well coated; about 1 minute. Stir in clams, divide between 4 bowls and serve with shichimi togarashi or chili flakes to sprinkle overtop.
SHARE