Smoky Pulled Pork on Sourdough Toasts
Holiday 2010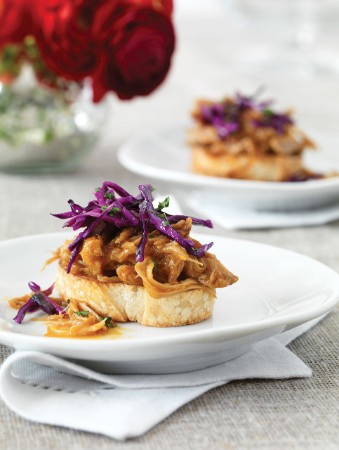 Smoky Pulled Pork on Sourdough Toasts
Holiday 2010
BY: Tonia Wilson-Vuksanovic
Tasty and satisfying, these hearty hors d'oeuvre bring a taste of summer barbecue to the table. Top with the crunchy Red Cabbage Slaw for the perfect condiment. For a sandwich option, slice a baguette lengthwise through the middle, stuff with pork mixture and slaw; with top of baguette back on slice crosswise into individual portions.
3 tbsp (45 mL) vegetable oil
4 lb (2 kg) boneless, whole pork shoulder, cut into 4 equal-size pieces Salt to taste
4 cups (1 L) onion, coarsely chopped
3 tbsp (45 mL) garlic, coarsely chopped
21/2 cups (625 mL) your favourite smoky-flavoured barbecue sauce
2 tsp (10 mL) cider or white vinegar
1/4 tsp (1 mL) freshly ground black pepper
2 cups (500 mL) Red Cabbage Slaw (recipe follows)
1 Preheat oven to 325°F (160°C).

2 In a large ovenproof pot, heat oil over medium-high. Season pork well with salt and sear in oil until well browned on all sides, about 20 minutes depending on surface area of pot. Be sure to use a pot large enough to prevent the pork from being overcrowded.

3 Remove browned meat from the pot and set aside. Drain off excess fat and return pork, onions, garlic and 1 cup (250 mL) of the barbecue sauce to the pot. Add enough water to come 2 inches (5 cm) up side of pot.

4 Cover and bring to the boil, place covered pot in preheated oven, and bake for 2 hours, rotating the pieces of pork halfway through.

5 Remove meat from pot along with 2 cups (500 mL) cooking liquid and place them both in refrigerator to cool slightly. Discard pot ingredients and reserve pot.

6 Shred the meat from the cooled pork pieces into the reserved pot, shred with fingers or a fork and discard any large fatty pieces.

7 Once all the meat is in the pot add the rest of the barbecue sauce, 1 1/2 cups (375 mL) of the reserved cooking liquid, vinegar and black pepper. Warm through while stirring. Season to taste and add more cooking liquid if desired.

8 Once cooled, divide pulled pork mixture into 6 equal quantities and place in freezer bags, freeze until ready to use.

9 To serve: thaw freezer bag of pork and heat mixture through in a small pot; reseason if necessary. Place the pulled pork on lightly toasted baguette slices and top with Red Cabbage Slaw (recipe follows). Serve warm. Also, try serving on miniature burger buns or croissants.


SHARE