Smoked Trout & Fennel Chowder
Temps des Fêtes 2014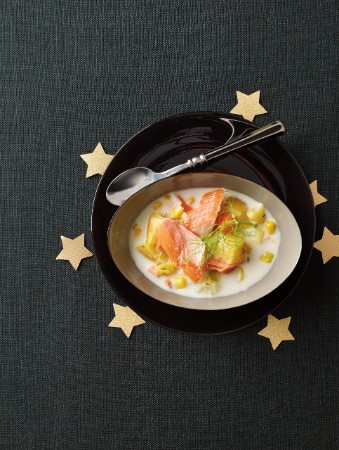 Smoked Trout & Fennel Chowder
Temps des Fêtes 2014
BY: Heather Trim
There's something comforting about chowder when you just feel like getting cozy at home after too many nights out. Serve with a crisp green salad (or not), crusty bread and a glass of beer. Ontario produces some great smoked trout so keep an eye out for it.
½ small fennel bulb
2 tbsp (30 mL) butter
1 leek, white and pale green part only, thinly sliced
1 small carrot, diced
1 garlic clove, minced
1 cup (250 mL) water
1 bottle (236 mL) clam juice
1 potato, peeled if desired, cut into small chunks
1 tsp (5 mL) dried thyme leaves
1½ cups (375 mL) 10% cream
1 cup (250 mL) frozen corn
Generous grinding black pepper
8 oz (250 g) smoked trout, skin removed, and then broken into large pieces
¼ tsp (1 mL) salt
1 Remove fennel fronds and set aside. Dice1 cup (250 mL) fennel. Melt butter in a large wide saucepan over medium heat. Add leek, fennel, carrot and garlic. Sauté just until tender, about 5 minutes.

2 Add water and clam juice, then potato and thyme. Bring to a boil, cover and simmer just until potatoes are nearly cooked, about 5 minutes. Stir in cream, corn and pepper. Simmer uncovered until cream is hot and potatoes are completely cooked, about 2 more minutes.

3 Stir in trout and salt. Serve sprinkled with fennel fronds.
Makes 7 cups (1.75 L) for 4 to 5 servings
SHARE