Smoked Salmon, Chèvre and Dill Squares
Holiday 2008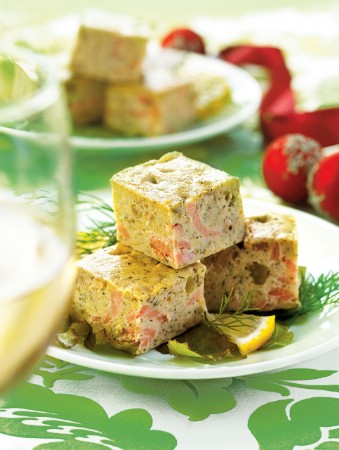 Smoked Salmon, Chèvre and Dill Squares
Holiday 2008
BY: Anna Olson
These squares have a light, almost cheesecake-like character to them, making them tasty whether served warm or chilled.
1 tbsp (15 mL) vegetable oil
1 cup (250 mL) diced onion, cut into ¼-inch (5-mm) pieces
½ cup (125 mL) diced celery, cut into ¼-inch (5-mm) pieces
4 oz (125 g) cream cheese, room temperature
4 oz (125 g) fresh chèvre
5 large eggs
½ cup (125 mL) dry bread crumbs
½ tsp (2 mL) ground black pepper
¼ tsp (1 mL) fine salt
3 tbsp (45 mL) finely chopped fresh dill
2 tbsp (25 mL) chopped capers
1 tbsp (15 mL) finely grated lemon zest
5 oz (150 g) smoked salmon, cut into ½-inch (1-cm) strips
1. Preheat oven to 350ºF (180ºC). Lightly grease an 8-inch (20-cm) square baking pan and line bottom and sides with parchment, so that parchment hangs over the sides of the pan.

2. In a sauté pan over medium heat, add oil, then onions and celery and sauté until onions are translucent, about 5 minutes. Remove pan from heat and cool.

3. In a food processor, pulse cream cheese and chèvre until smooth. With the processor running, add eggs one at a time, scraping the processor often. Pulse in bread crumbs, pepper, salt, dill, capers and lemon zest. Scrape mixture into a bowl and stir in smoked salmon by hand. Spread mixture into the prepared pan and bake for about 30 minutes, until set and top is light golden in colour. Cool squares in pan, then chill completely before slicing.

4. Squares can be served chilled or at room temperature, or warmed in a 225ºF (110º C) oven for 12 minutes.
Makes one 8-inch (20-cm) pan, or 25 squares
SHARE