Smoked Salmon with Watercress Cream
Early Summer 2006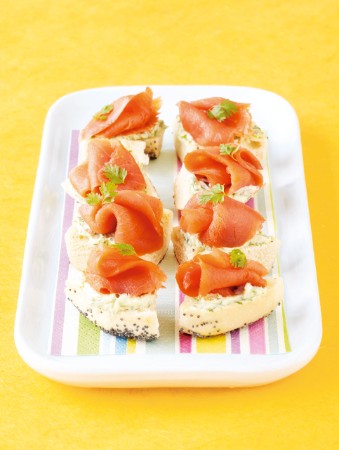 Smoked Salmon with Watercress Cream
Early Summer 2006
BY: Lucy Waverman
A simple very effective sandwich that people really enjoy. The tanginess of the watercress complements the richness of the salmon.
½ cup (125 mL) deli-style cream cheese
1½ cups (375 mL) watercress leaves
½ cup (125 mL) chopped green onions
1 tsp (25 mL) maple syrup
Salt and freshly ground pepper
6 mini bagels
2 tbsp (25 mL) unsalted butter, softened
8 oz (250 g) smoked salmon
Sprigs of chervil or dill
1. Combine cream cheese and watercress in a food processor or mini chop. Combine well. Stir in green onions and maple syrup and season with salt and pepper.

2. Cut bagels in half and spread thinly with butter. Spread on watercress cream cheese mixture. Cut each half bagel into 4 pieces and top each quarter with a folded piece of smoked salmon and a sprig of chervil.
SHARE