Smoked Salmon Spread with Brioche Toasts
Holiday 2010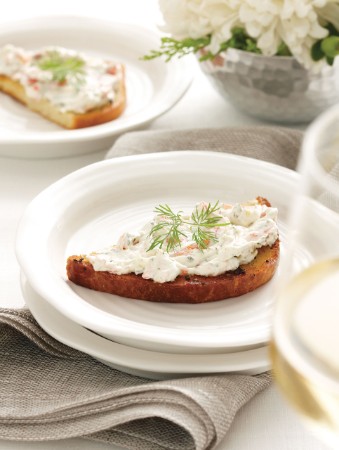 Smoked Salmon Spread with Brioche Toasts
Holiday 2010
BY: Nicole Young
This simple savoury spread is ideal for serving in the kitchen for friends to nibble on while last-minute preparations are being made. It also benefits from being made a couple of days ahead. The toasts can be replaced with your favourite crackers or crisps. Smoked trout makes a great variation to the salmon.
8 oz (250 g) cream cheese, softened
1/2 cup (125 mL) sour cream
2 tsp (10 mL) lemon zest
1 tbsp (15 mL) lemon juice
1 tbsp (15 mL) fresh minced dill
2 tsp (10 mL) minced capers
1 tsp (5 mL) prepared horseradish
1/4 tsp (1 mL) each coarse salt and fresh cracked pepper
4 oz (125 g) smoked salmon, chopped

BRIOCHE TOASTS
1 loaf brioche
1/4 cup (50 mL) olive oil
1 tsp (5 mL) each coarse salt and fresh cracked pepper
1 Use electric hand or stand mixer to beat cream cheese until smooth. Add sour cream, lemon zest and juice, dill, capers, horseradish, salt and pepper and blend until smooth. Add the smoked salmon and mix well. Transfer to dish, cover and chill until ready to serve.

2 Preheat oven to 375°F (190°C).

3 To make toasts, slice brioche into about 1/2-inch-thick (1-cm) slices. Cut each slice on a diagonal. Brush each lightly on both sides with oil and arrange in a single layer on a rimmed baking sheet. Sprinkle with salt and pepper. Bake in oven until toasts are golden, about 10 minutes. Transfer to rack to cool completely. Store at room temperature in an airtight container for up to 5 days.


SHARE