Smoked Salmon Lollipops
Holiday 2005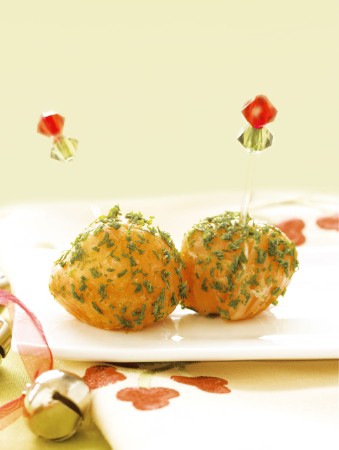 Smoked Salmon Lollipops
Holiday 2005
BY: Dinah Koo, Koo & Company, Caterer
A simple hors-d'oeuvre with a sense of humour. These lollipops can be made a few days ahead of time.
1 English cucumber, 4 to 5-inches (10 to 12-cm) long
¼ cup (50 mL) softened cream cheese
Salt and freshly ground pepper
7 oz (200 g) thinly sliced smoked salmon
3 tbsp (45 mL) finely chopped fresh dill
24 bamboo skewers, 4 to 6-inches (10 to 15-cm) long
1. Cut cucumber into ½-inch (1-cm) dice to yield 24 pieces. Avoid using pieces with the seeds in them.

2. Season cream cheese with salt and pepper, spread thinly onto slices of smoked salmon, and cut salmon into ½-inch (1-cm) strips.

3. Wrap salmon strips around the cucumber squares rotating around to form a bite-size ball approximately ¾-inch (2-cm). The ball can be rolled or squeezed in a little piece of plastic wrap to make it totally round. Place on a parchment-lined baking sheet and put in freezer until ready to serve.

4. When ready to serve, let thaw slightly. Roll in chopped dill, push skewer in and serve.
SHARE