Slow-Roasted Shoulder of Lamb with Roasted Garlic
Spring 2011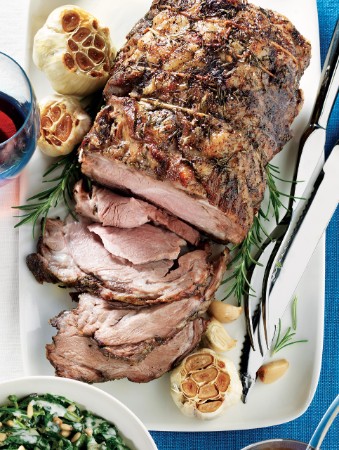 Slow-Roasted Shoulder of Lamb with Roasted Garlic
Spring 2011
BY: Lucy Waverman
This recipe was inspired by a meal I had in Rome. Lamb shoulder is often overlooked in favour of lamb legs when it comes to roasting. The shoulder, however, is more succulent with a full flavour. I slow-roast it to get the maximum texture and taste and serve it slightly pink. Because the shoulder is uneven some pieces will be better done. I prefer not to roll the shoulder after boning as it cuts more evenly when it is laid flat. Used as a thickener, arrowroot does not give the glossy look of cornstarch, so I prefer it. However, it can be harder to find than cornstarch which is an adequate if not perfect substitute.
1 lamb shoulder, 4 lbs (2 kg) boned
Salt and freshly ground pepper
2 tbsp (25 mL) chopped fresh rosemary
2 tbsp (25 mL) olive oil
6 bulbs of garlic, top quarter removed

GRAVY
½ cup (125 mL) red wine
2 cups (500 mL) beef or chicken stock
1 tbsp (15 mL) redcurrant jelly
1 tbsp (15 mL) arrowroot or cornstarch
1 tbsp (15 mL) water
1. Preheat oven to 350°F (180°C).

2. Rub lamb with salt, pepper and rosemary and drizzle with olive oil. Place in an oiled baking dish and set in oven. Immediately turn heat to 275°F (140°C) and bake for 1 hour.Add garlic bulbs, baste and bake for another 1½ hours or until slightly pink inside. Turn garlic over after 1 hour. Reserve garlic bulbs to serve with lamb. Let lamb rest for 15 minutes while making sauce.

3. Skim fat from roasting pan, reserving juices in roasting pan to make gravy. Add wine to pan, bring to boil and reduce until almost disappeared. Add stock and lamb juice and reduce by half. Stir in red currant jelly and bring to boil. If sauce is too thin then mix together arrowroot and water and stir into sauce and bring back to boil. Serve lamb with gravy and roasted garlic bulbs.



SHARE