Slow-Roasted Fillet of Beef with Miso Marrow Sauce
Autumn 2018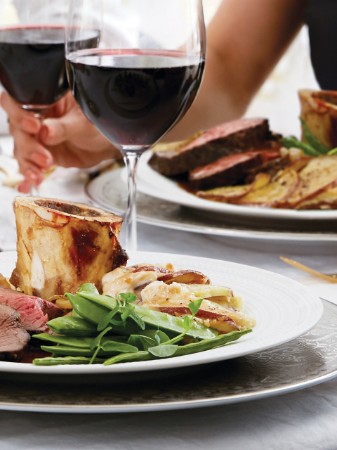 Slow-Roasted Fillet of Beef with Miso Marrow Sauce
Autumn 2018
BY: Lucy Waverman
This is a perfect make-ahead main because you can slow-roast the fillet about eight hours earlier in the day. Remove the beef from the oven when the temperature reads about 120°F (50°C). Let it cool. When you are ready to serve, bake on high heat to sear the outside and warm the inside. This method of roasting results in an evenly coloured and very juicy roast. Omit marrow bones if you cannot get them but the fat that they leave in the pan is great for roasting potatoes another time. To reduce miso marrow sauce properly you really need homemade or butcher-bought stock. If all you have is store-bought do not reduce as much and thicken with a little paste made from
1 tbsp (15 mL) cornstarch and water.
1 beef fillet, 3 to 4 lbs (1.36 to 1.81 kg)
1½ tsp (7 mL) kosher salt
2 tbsp (30 mL) vegetable oil
2 cloves garlic, grated
2 tbsp (30 mL) wasabi powder
4 bay leaves
2 cups (500 mL) sliced onion
8 small marrow bones

MISO MARROW SAUCE
2 cups (500 mL) unsalted beef or chicken stock, preferably homemade or butcher-supplied
1 tbsp (15 mL) white miso
1 tsp (5 mL) balsamic vinegar
1 tsp (5 mL) soy sauce
1 tbsp (15 mL) unsalted butter, in small pieces
1. Preheat oven to 250°F (120°C).

2. Rub the fillet with salt and let sit uncovered in the refrigerator overnight. This helps to flavour it. Combine vegetable oil with garlic and wasabi. If it is too dry, add a bit more oil. Paint it over the fillet about 2 hours before cooking.

3. Place 4 bay leaves in the roasting pan. Scatter over onions and place the fillet overtop. Arrange the marrow bones around the fillet. Measuring at the thickest part of the roast, measure height and slow roast for 30 minutes per inch (2.5 cm) for medium-rare. If you want it rarer then roast 25 minutes to the inch.

4. Remove roasting pan from oven and let fillet rest uncovered at room temperature while you heat the oven to 450°F (230°C). You can reserve the fillet and bones at this point and roast it again up to 8 hours later. Refrigerate if reserving for more than 2 hours. Bring back to room temperature before roasting.

5. If reserving, drain any juice from roast into a jug and reserve. Skim fat from juices and save for another use.

6. Before serving, return roasting pan to oven and roast until fillet is browned and heated through, 25 to 30 minutes. Remove from oven and let rest on a carving board for 10 minutes while you make the sauce. Reserve marrow bones and onion on a platter covered loosely with foil.

7. Add stock to roasting pan, scraping up any bits from the base. Whisk in the miso, balsamic, soy and reserved juices (if roast was reserved). Bring to a boil and cook until stock is reduced enough to coat a spoon, about 5 to 10 minutes, depending on the size of your roasting pan. Stir in butter. Keep warm.

8. Slice beef into thick or thin slices, whatever you prefer. Add a marrow bone with a little onion to each plate along with some beef and sauce.
SHARE