Slow-Roasted Beef Fillet with Orange Sauce
Holiday 2016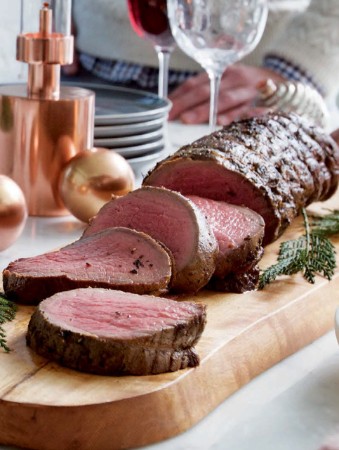 Slow-Roasted Beef Fillet with Orange Sauce
Holiday 2016
BY: Christopher St. Onge
This gorgeous and very simple roast relies mostly on a few great ingredients. Because the stock is reduced and the flavours concentrated, it's advisable to avoid cans or cartons of mass-market beef broth or stock. Any off or artificial flavours only become more apparent as it boils away. Many butchers sell housemade beef stock and you can pick it up while purchasing your beef if you don't have time to make your own.
3 tbsp (45 mL) butter
3 lbs (1.5 kg) centre-cut beef filet roast, tied
Salt and freshly ground black pepper
1 tbsp plus 1 tsp (15 mL plus 5 mL) chopped thyme, divided
2 tsp (10 mL) finely grated orange zest
4 cups (1 L) homemade or butcher's beef stock
1 tbsp (15 mL) hoisin sauce
1 length orange peel, 3 inches (8 cm), trimmed of white pith
Juice of 1 orange
6 cloves garlic, peeled
2 tsp (10 mL) miso, or Chinese ground bean sauce
1 tbsp (15 mL) water
2 tsp (10 mL) cornstarch
1 Preheat oven to 300°F (150°C).

2 Melt butter over high heat in a skillet large enough to hold the roast. Brown meat on all sides, about 10 minutes total. Remove to a board and season generously with salt and pepper. In a small bowl, toss together 1 tbsp (15 mL) thyme and orange zest; sprinkle over roast, pressing to adhere.

3 Arrange in a shallow roasting pan, place in oven and cook until internal temperature reaches 125°F (52°C) for rare, or 140°F (60°C) for medium, 50 to 60 minutes.

4 Meanwhile, prepare the sauce by combining stock, hoisin, orange peel, juice and garlic cloves in a medium saucepan. Bring to a boil over medium heat and reduce until 1½ cups (375 mL) of liquid remain; using a slotted spoon, remove and discard garlic and orange peel. Whisk in miso. In a small bowl, stir together water and cornstarch; whisk mixture into sauce to thicken slightly (sauce should coat the back of a spoon and be glossy). Stir in remaining 1 tsp (5 mL) thyme, cover and remove from heat; keep warm.

5 Once roast is desired internal temperature, remove to a board, tent and allow to rest for 10 minutes before carving into ½-inch-thick (1-cm) slices. Serve with sauce.
SHARE